A Wii Sports Resort themed exploit may be ignored entirely.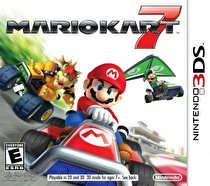 A frequently-exploited glitch in Mario Kart 7 for the 3DS will not be fixed, as confirmed by Nintendo.
The glitch occurs on the track Maka Wahu, and at one point while racing, players may drive off of the track and respawn about one third of the course further in the race.
Although Nintendo has been emailed about the glitch, their reply suggests that no course of action will be taken. As reported by StickTwiddlers, Nintendo of America's Buddy Roemer says,
"We are aware that it is possible to navigate a certain part of the track in Wuhu Island in a way that allows a large part of the course to be bypassed. There are no plans to update the game to remove this shortcut as doing so would create an unfair advantage for the users of the original release of the game."
Roemer's comment fails to reference any possibility of patching, something that Nintendo has confirmed will be made available for 3DS titles.