UPDATE: While Miyamoto will be focusing on smaller projects, he will NOT be retiring from game development altogether.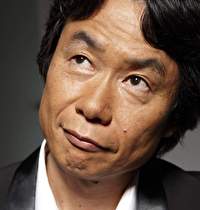 UPDATE: A Reuters report refuted the news that Shigeru Miyamoto will be stepping down from his position at Nintendo. A spokesperson from Nintendo denied the allegations made on Wired's interview, saying that Miyamoto simply wanted to train the new generation. After the announcement, Nintendo's shares fell two percent and partially recovered after the denial.
Nintendo lead designer Shigeru Miyamoto will be stepping down from his position at Nintendo in order to work on smaller projects, Wired.com confirms.
Miyamoto mentioned in an interview on Wired.com that he has been mentioning that he will be retiring soon, and will step down from working on big titles like Super Mario 3D Land and The Legend of Zelda: Skyward Sword. "Inside our office, I've been recently declaring, 'I'm going to retire, I'm going to retire,'" Miyamoto said. "I'm not saying that I'm going to retire from game development altogether. What I mean by retiring is, retiring from my current position."
The reason as to why he is stepping down is because he hopes to work on smaller, more personal video game projects instead of titles that have up to a five-year development cycle.
Despite the decision, he has high hopes for the development teams he has taught throughout the years. "The reason why I'm stressing that is that unless I say that I'm retiring, I cannot nurture the young developers," he said. "After all, if I'm there in my position as it is, then there's always kind of a relationship. And the young guys are always kind of in a situation where they have to listen to my ideas. But I need some people who are growing up much more than today."
He concluded that he is looking forward to working with new, younger development teams.