Karl hops in with new games, hot news, and your emails!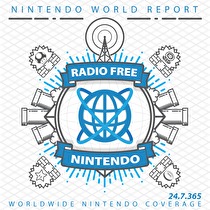 Subscribe via iTunes (Please rate and review, too!)
Jon was stuck at work this week, but Karl stepped in to save the day! And he's got brand new games to talk about, too. Karl drops fresh impressions for the latest 3DS digital release, Pushmo, as well as Infinity Blade 2 for some other download platform. Jonny reports on happy times playing Mario Kart 7 with the NWR community and sad times playing the stale, busted Grand Prix mode. James wraps up Zelda and spends more time than you'd expect on Fishing Resort, the latest weird release from Prope and XSEED. Finally, Greg shares his thoughts on the secret level in Super Mario 3D Land, the last hours of Batman: Arkham City, and a few Virtual Console updates (for Japan and Europe, of course).
After the break, we succumb to the deluge of Nintendo news by discussing Miyamoto's quasi-retirement, Xenoblade's belated American release, and a game-breaking glitch in Skyward Sword. We even reserved a little time at the end for a pair of listener emails on imitating the Wii U tablet and the role of cursing in gamer culture. We're always accepting more of those great emails -- click here to send yours!
Also, check out the beta version of that Castaneda-written Facebook game, OJO Agent.
This podcast was edited by Greg Leahy.
Music for this episode of Radio Free Nintendo is used with permission from Jason Ricci & New Blood. You can purchase their newest album, Done with the Devil, directly from the record label, Amazon (CD) (MP3), or iTunes, or call your local record store and ask for it!
Additional music for this episode of Radio Free Nintendo is copyrighted to Nintendo, and is included under fair use protection.