Not only will it be for the Wii, a Wii U version will also be made.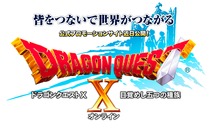 Dragon Quest X will be an online RPG for the Wii and Wii U, the Dragon Quest 25th Anniversary press conference revealed today.
Years after Square Enix announced the tenth iteration of the franchise, Square Enix finally presented solid details regarding the game. The full name of the game is Dragon Quest X: Mezameshi Itsutsu no Shuzoku (Awakening of the Five Tribes). It is being produced by Yosuke Saito (Nier producer) and directed by Jin Fujisawa (who directed the last two games in the series, Dragon Quest VIII and IX). Akira Toriyama is handling the character designs and Koichi Sugiyama is in charge of the title's music. Despite rumors of a platform change, the game will indeed be for the Wii and will be an online RPG where a player's allies will also be other players from around the world. Dragon Quest X will be the first in the series in years to be developed internally at Square Enix, after companies like Level 5 had worked on the most recent games.
Dragon Quest X will take place in the kingdom of Astoria, and will be the home of five different races and five unique regions. Despite the game being online, the producers promised that it will have a big narrative behind it all.
In addition to a Wii release, Dragon Quest X will also have a Wii U version. The Wii U version will be graphically superior, but it will take place in the same universe and online play will be cross-platform. Additionally, if players start their game on the Wii they can move it over to the Wii U version.
In terms of control, Dragon Quest X will support the Wii Remote and Nunchuk, as well as the Classic Controller, Classic Controller Pro and USB keyboards. If players are not able to find partners to play the game with, NPCs with different AI actions will be assigned to them. Finally, there may be a 3DS feature where players can download their character data onto the handheld, then exchange it with other players with StreetPass.
Details of the pay structure have yet to be announced, but players should expect to pay some kind of subscription charge,
While not a firm release date was given, it is expected that the game is released sometime in 2012.