Our old friend Chris Kohler helps guide us through the confusing world of Japanese gaming news.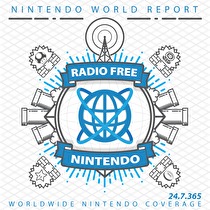 Subscribe via iTunes (Please rate and review, too!)
It has been nearly two years since Chris Kohler appeared on RFN, and we are extremely pleased to have him back this week as a sub for Greg. It's perfect timing, too, as the Tokyo Games Show looms and we also have a one-two punch of crazy Nintendo news out of Japan. But first, New Business! Jon is back with some love for Capcom's retro-style DSiWare gem, Dark Void Zero. He also reports on a duo of Resistance games, starting with the control-challenged Retribution on PSP and wrapping up with the apparently redeemed Resistance 3 on PS3. Jonny completed Ghost Trick and describes the arc of his affection for the game. He also got to play Serious Sam: Double D (on Steam), the latest dose of wacky from our friend and former RFN visitor Nathan Fouts at Mommy's Best Games. Mr. Kohler skips over the upcoming DS sequel to Professor Layton, instead treating us to a full diagnosis of the fifth game in the series, Mask of Miracle for 3DS. Then, James pulls into the show just in time to grill Chris on all the details of Layton and Luke's eventual shift into the third D. James himself has a 3DS game as well, but in name only -- it's SMT: Devil Survivor Overclocked, and our cranky friend spares no rage for this lazy port.
After the break, we introduce a new, probably rare segment: "WTF Is Going On With Japan Lately?" Considering that Chris Kohler has written a book on Japan's gaming industry (check the back cover for Jonny's quote!), he is the perfect guy to have on the show to discuss this stuff. First up is Monster Hunter 3G and the confirmed (though still hard to believe) 3DS cradle with a second Circle Pad and extra shoulder buttons. Our next topic is the long-awaited reveal of Dragon Quest X, which will be an online RPG for multiple Nintendo platforms. Finally, Chris guides us through a short preview of TGS 2011, where we expect numerous 3DS game announcements as well as the last big push from Vita before Sony's competing handheld launches this fall in Japan.
This podcast was edited by Greg Leahy.
Music for this episode of Radio Free Nintendo is used with permission from Jason Ricci & New Blood. You can purchase their newest album, Done with the Devil, directly from the record label, Amazon (CD) (MP3), or iTunes, or call your local record store and ask for it!
Additional music for this episode of Radio Free Nintendo is copyrighted to Nintendo, and is included under fair use protection.