Firebrand and Aya give us a challenge in this week's downloads.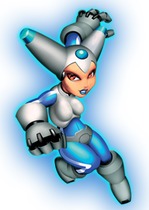 Nintendo eShop users have the chance to download Gargoyle's Quest this Thursday. In this adventure you play as Firebrand, a gargoyle who has to battle a mysterious army that entered the Ghoul Realm. Players ultilize Firebrand's magical powers to defeat enemies and gather information in the realm's towns. The game will cost you €4.
On DSiWare there is just one title this week in the form of Bridge. In this version of the well-known cardgame, players will be able to set their own rules and set AI opponent anywhere from beginner to pro. There is also a local multiplayer mode, where you can use special speech and text functions to celebrate your victory. Bridge will set you 500 Points on the DSi Shop or €5 on the Nintendo eShop.
Finally on Wii, we have the long awaited Aya and the Cubes of Light from Object Vision. In this puzzle platformer you play as Aya, daughter of the Cube Corporation. Your job is to restore energy to the Cubes, the power sources of the stars. Players will have to teleport onto the Cubes to collect the energy packs and get the engines working again. In total their are thirty levels spread over three constellations, with each new Cube being harder to restore than the last. If you are up for the challenge, Aya will be available for 1000 Points from the WiiWare service.