There will be 10 games launching with the service, as well as an Internet browser.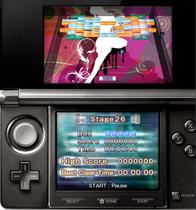 Six Virtual Console, two 3D Classics, and two other titles will help launch the eShop in Japan. An Internet browser will also launch with the service next week.
The Virtual Console slate, all from the Game Boy, consists of Super Mario Land, Kirby's Dreamland, and Baseball from Nintendo, as well as Mega Man: Dr. Wily's Revenge from Capcom, Avenging Spirit from Jaleco, and a River City Ransom sequel from Arc System Works. They will be priced at 400 yen (roughly $5) each, except Baseball, which will be 300 yen (roughly $4). No other systems are represented.
Baseball is listed as a one-player game, even though the original supported two players using the Link Cable, and the two-player option is still shown on a screenshot. There's no word of multiplayer support for Virtual Console titles.
Excitebike, one of the debut 3D Classics, will be free, as previously reported. This special offer will last until July 31. Afterwards, it will be 600 yen (roughly $7.50). Xevious is the other launch 3D Classic.
The two other games are Mystery P.I. - Lost in Los Angeles, the latest in the series from SpinTop Games (who are owned by PopCap), and 3D Breakout. Both games are 500 yen (roughly $6).
There was no mention of the Pokédex 3D application that was unearthed for the North American eShop.
The ten launch games are listed below.
The Internet browser will include MPO 3D image support, meaning that images taken with the 3DS and embedded in a web page will display in 3D. Images can also be saved and viewed in the Nintendo 3DS Photo application. The browser will allow users to upload photos from SD card to a service called "My blog". Users will also be able to save up to 64 bookmarks.
The browser will not include plugin support, meaning Flash will not work. 3DS game trailers can be viewed from the eShop, but 3D movie support in the Internet browser is not mentioned.
Lastly, DSi-to-3DS transferred is also confirmed for the update, which is slated to hit Japan on June 7. Users wishing to transfer games will need to download a data transfer program from the DSi Store onto their DSi systems. The following limited number of titles cannot be transferred.
Ertain

Artist ni Narou! Kigaru ni Sketch
Artist ni Narou! Minna no Nurie Shokyuuhen

Gameloft

Earthworm Jim
Asphalt 4: Elite Racing
Real Soccer 2009
Real Soccer 2010

Square-Enix

Dragon Quest Monster Battle Road V - Senyou Color Code Scanner

Takara-Tomy

Nari-Chara: Katekyoo Hitman Reborn!
Nari-Chara: Naruto Shippuden

Tasuke
Nintendo

Ugoku Memo Tobari [3DS Flipnote Studio under development]

Nintendo DS Browser [3DS version available]

Pocket Rurubu Series

Hudson

Quiz Ongaku no Jikan: Joysound Wii Super DX Senyou Kyoku Navi Dzuke
Sudoku Shokyuu 50-Mon! (Sudoku Student)
Sudoku 150-Mon!
Matt Walker, Danny Bivens, and Andrew Brown aided with translations.