Additionally, Pikmin 2 might debut as a Nintendo Selects title.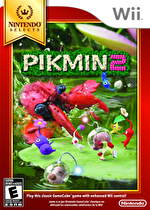 New Play Control! Mario Power Tennis has been listed as a Nintendo Selects title in the Canadian websites for FutureShop and Best Buy. New Play Control! Pikmin 2 might also be released as a Nintendo Selects title when it comes out in North America, according to a Canadian retailer ad.
Mario Power Tennis is listed for an October 6 release, but since Nintendo has issued no official confirmation, the validity of the date remains in question.
The Pikmin 2 listing has a release date of June 11 listed, going in line with Nintendo Power's June release date when the game was officially unveiled in the magazine's recent issue.
Still, with actual box art showing up on reliable retailer sites, it appears that we will be getting Mario Power Tennis and Pikmin 2 as Nintendo Selects sometime soon.