The franchise's creator talks about new additions to the DS version.
In an interview in this week's Famitsu magazine, Kingdom Hearts creator Tetsuya Nomura revealed some details about the recently announced DS title Kingdom Hearts Re: Coded.
a class="thickbox" rel="images" title="" href="/media/0/1/981.jpg">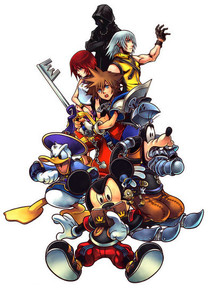 As previously announced, Re: Coded will be a remake of the cell phone game released last year. The decision was made because most cell phones in North America aren't capable of displaying the game, and the DS game would reach a bigger audience. In addition, due to the game's analog control-free design the development team felt that the game was well-matched to the DS hardware.
The story featured in the cell phone version will also be present in the DS remake, although some scenes and dialogue will be slightly altered. The graphical presentation is touched up for the DS version as well. Originally the game was going to be ported directly with no changes, but thanks to the graphical capabilities of the DS some scenes were recreated in full 3D. Text-based scenes were recreated using 2D sprites, with Nomura using the DS title "The World Ends with You" as an example of a game using 2D graphics to tell its story.
Nomura further explained that the gameplay in Coded would include elements of Birth by Sleep and 358/2 Days. Nomura believes this combination will create a very unique gameplay experience. The gameplay is being supervised by the Co-Director of Birth by Sleep, along with the development team of that title working on the maps as well. Famitsu then asked if the controls were inspired by 358/2 days, and Nomura explained that with Coded they wanted to reach more casual players.
Kingdom Hearts Re: Coded is nearing completion, with 80% of the game being done. Nomura promises that a release date will be announced soon, and that the wait won't be as long as with Birth by Sleep.