Tetsuya Nomura believes that Pixar worlds and characters could appear in future titles.
In an E3 interview, Kingdom Hearts creator and character designer Tetsuya Nomura talked about the possibilities of future Kingdom Hearts games featuring Pixar-based worlds. "I am aware of the fan requests for Pixar characters," said the Square Enix director. "I will do my best. Maybe one day Pixar characters will be featured in the Kingdom Hearts series."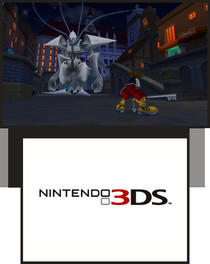 Recently, Kingdom Hearts Re: Coded was announced for the DS. A remake of the cell phone game, Re: Coded has Sora and friends recollecting their lost memories and hoping to complete Jiminy Cricket's journal. A new Kingdom Hearts game for the recently unveiled Nintendo 3DS was also announced, and was confirmed to be a new game in the series.
In 2006, Pixar was bought by the Disney Company after struggling to reach a deal with their contract. Such recent successes include Cars, Wall-E, the Academy Award nominated Up, and Toy Story 3, which premiered last weekend and has already earned $109 million at the box office.