The company's CEO discusses multiple aspects of the gaming business in an interview with Forbes.
While speaking with Forbes at E3, Square Enix CEO Yoichi Wada had some very clear goals in terms of incorporating multiplayer gaming into his company's titles. The executive stated that, "In all of the games we will be releasing going forward, some kind of multiplayer element will be incorporated one way or another."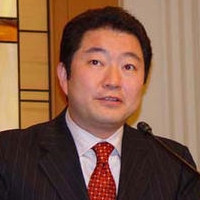 He was quick to clarify that by "multiplayer" he does not necessarily mean "online". While the company is set to release MMORPG Final Fantasy XIV this year, Wada explained that massively multiplayer online experiences will not be the company's sole multiplayer mandate. "What we will encourage [designers] to do is to incorporate some kind of multiplayer element even in single-player games." A good example of this philosphy is Dragon Quest IX, set to release next month. It incorporates a DS-to-DS "tag" mode that encourages social interaction amongst gamers.
To drive home this social element in their games, the company will be bringing in "fresh blood" that knows how to create multiplayer games. Furthermore, all Square Enix employees have been told to "think of the network as the basis of everything". Wada stated that designers that were good at making games ten years ago - before the rise of highly social, online gaming - may not necessarily have a knack for creating compelling multiplayer experiences today.
Wada is also bullish on digital distribution, seeing it as an alternative to selling games in brick-and-mortar stores. He likes the fact that it's a more direct line to customers, and also the way that it lets game companies monetize games in different ways, like separating games into chapters. He gave the example of breaking a $60-$70 Final Fantasy game into $5 chapters as an example, similar to what the company did with their WiiWare title Final Fantasy IV: The After Years.
The business models of Chinese and Korean companies like Tencent and NCSoft were also high on Wada's list, as they make their money off of high-profit-margin virtual goods that are sold for use in their free-to-play online games. He especially admired Tencent, saying that while their game graphics weren't as polished as Square Enix titles, they are "very polished in terms of the experience".
Wada also expressed a desire to evolve Square Enix beyond being known only as "The House of Final Fantasy". He pointed to "Kane & Lynch 2" and "Front Mission Evolved" as examples of this philosophy.