Finally, Nintendo hears our pleas and brings out a big gun. But where are the other games?
Well, that's interesting. Nintendo up and disappeared for the last two weeks, only to return with what many people will tell you is the best game ever made. All is forgiven, Nintendo. Well, at least until next week.
Curiously, Sega had promised three Virtual Console releases today, but as of 8:30 Monday evening (Pacific time), they are nowhere to be found. Whenever they get around to upping them, we'll update this page with our recommendations. Hopefully, that'll happen by the end of tomorrow.
Then again, they wouldn't have stood much of a chance against Nintendo's game.
---
The Legend of Zelda: A Link to the Past - SNES
Released: 4/13/1992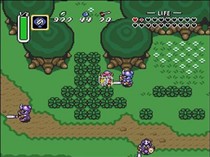 1 Player

Cost: 800 Wii Points ($8)

Controllers: Wii Classic, GameCube
A Link to the Past was the last 2D Zelda game to come out on a non-portable console. It actually moved back to the strictly top down view found in the original game (and strayed from slightly in the second one). The world itself is significantly larger than the one in the previous two games. It also features an alternate dark world that includes different dungeons and enemies. Items play a huge role in the game, and many Zelda staples, like the Master Sword and the Hookshot, are introduced.
For those looking for the optimal control setup, play the game with the Wii Classic controller. The GameCube controller will get the job done just fine, but the B Button/Y Button combo doesn't seem to be optimally placed for sword/secondary use. Even though Wind Waker and Twilight Princess uses the same scheme, things go much faster in the 2D space, so it doesn't feel quite right.

So where does A Link to the Past fall among all of the Zelda games that have come out? Some might say it's the best of them all. The Super Nintendo iteration of the franchise has an engrossing story and world that put every game before it to shame. Plenty of items, two different worlds, and two different sets of enemies really set the stage for every Zelda game to follow. If you haven't played this game, download it NOW. If you have played this game, I guess you can wait until tomorrow and then download it.