Mario Kart 64 and Contra III may be a sign that the worst of the Virtual Console is behind us.
After last Monday's one-hit wonder, Nintendo comes out swinging again with a wonderful racing game from the N64 era. With promises of more Nintendo hits coming soon (Super Mario World, Donkey Kong Country), have we seen the last of the cruddy release weeks?
Nintendo isn't the only company to bring their games to Virtual Console, of course. Today, Konami hits us with one of the games in the Contra series, and Sega makes up for last week's no-show by releasing two of the three games that were supposed to show up then.
Here are the four VC games up for download this Monday, along with our recommendations for each. I hope you've got an extra Wii Points card handy.
---
Mario Kart 64 - Nintendo 64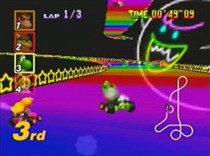 Released: 2/10/1997

1-4 Players

Cost: 1000 Wii Points ($10)

Controllers: Wii Classic, GameCube
Before Mario Kart DS came to town, the definitive 3D Mario Kart was on the N64. Four players can go split-screen on 20 different tracks that includes four battle mode tracks, which are considered some of the best in the series. The benefit of the game being on Virtual Console is that it runs at a very crisp 640×480 screen resolution (which looks fantastic with component cables), but the trade-off is
that controller pak memory cards aren't supported. That means you can't save that time trial ghost of you jumping over the center wall at Mario Raceway. Shucks.

Mario Kart 64 is still a great racing game 10 years after it was released. Everything you remember is just like it used to be: Hitting the apexes when powersliding around tight corners of the raceway tracks, weaving through traffic at Toad's Turnpike, getting lost in the maze that is Yoshi's Valley, and taking the leap of faith at Rainbow Road. It's good stuff for anyone and everyone.
---
Contra III: The Alien Wars - SNES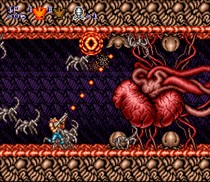 Released: 4/1992

1-2 Players

Cost: 800 Wii Points ($8)

Controllers: Wii Classic, GameCube
This truly classic action game in the "run and gun" sub-genre easily stands up to similar games like Gunstar Heroes and the Metal Slug series. Contra III plays much like the first two games and is just as difficult, but it harnesses the power of Super NES to fill the screen with bullets, enemies, and explosions. There are several types of weapons, and you can hold two at a time and switch between them depending on the situation. New to the series are the overhead, Mode-7 levels, in which the D-pad strafes and the shoulder buttons are used to rotate the screen. These levels are a bit jarring at first, but they actually work well and are quite interesting once you get used to the controls.

Contra III looks and plays wonderfully on Virtual Console, but don't bother downloading it if you don't yet have the Classic Controller. The button mapping (which cannot be customized) is very poor on the GameCube controller, to the point of being almost unplayable. Everyone who already downloaded Gunstar Heroes should definitely try Contra III, as the games are highly similar and equally fantastic. Oddly enough, the Konami Code doesn't work in this game, so you'll have to make it through on pure skill (and ample continues).
---
Comix Zone - Genesis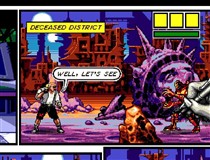 Released: 1/1/1995

Players: 1

Cost: 800 Wii Points ($8)

Controllers: Wii Remote, Wii Classic, GameCube
This late-generation Genesis game sees artist Sketch Turner get sucked into the pages of his own comic book. Much of the gameplay is set around the comic motif, with Sketch needing to jump from panel to panel to advance to the next page of his journey. The gameplay is part action and part fighter, as many of our hero's special moves have a kind of Mortal Kombat/Street Fighter thing going for them. Every chapter has branching paths, meaning you can play through the game again and see different stuff the second time through.

This game is just plain cool, and a lot of fun to play through. It's a somewhat advanced game, however, with special move combinations and a bunch of rough stretches. It's kind of like a 16-bit Viewtiful Joe (though slower), so if that type of game is up your alley, Comix Zone may be something you should check out.
---
Bonanza Bros. - Genesis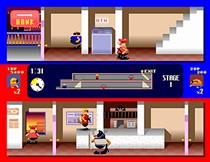 Released: 5/16/1991

Players: 1-2

Cost: 800 Wii Points ($8)

Controllers: Wii Remote, Wii Classic, GameCube
Bonanza Bros. is an action game where the titular twins (Mobo and Robo) are tasked with the job of entering a building, avoiding guards (with guns, if necessary), stealing key items and getting out within a three-minute time limit. The game is split-screen even if you're playing alone, because the game is designed for two players to co-operatively get in and out without getting caught. The single player is a little harder to manage because of it, though it's an interesting game to go through because of its time-management and puzzle characteristics.

Though simple for a Genesis game, there's something oddly addictive about going around and theiving stuff with the clock ticking. We'll recommend this game for people looking for a change up, although 800 Wii Points is a bit much for a game that looks like it could have been done on the NES. If you're thinking about it, see if you can get someone to play co-op with you to make it worth while.
---
This week's recommendations are brought to you by Jonathan Metts and Steven Rodriguez.
Some screenshots courtesy The Killer List of Video Games and The Video Game Museum.