There are three new releases this week, one each from three different systems. But it's pretty much the same as last week's update.
Welcome to another edition of Nintendo World Report's Classic Shoot-'em-up Roundup. I mean, Virtual Console Mondays. For the second week in a row, Nintendo has opted to sit out and let some third parties pull out their guns. Again, of the three games released this week, two are of the classic arcade shooter variety. But are they truly classics worth playing again, or games that are simply old and washed up? Here are our recommendations for this week's games.
---
R-Type III: The Third Lightning - SNES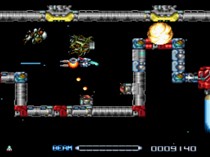 Released: 8/2/1994

1-2 Players

Cost: 800 Wii Points ($8)

Controllers: Wii Classic, GameCube
R-Type III is a side scrolling shooter in the classic vein that has a great graphical style. Story is typically mum while gameplay is fast. As the environments whiz by you, you'll have to juggle many different elements, like powerups that attach themselves to either the front or back of you, different ships, weapon types, and charging methods. For a simple genre, R-Type III takes its shooting seriously - you'll have to read the Operations Manual to get a feel for the different combinations, but for the shmup enthusiast, the VC is the place to be.

Do you like shooting them up (shmupping)? Then get this game. It's got some good variety of playstyles and a high level of difficulty, making it perfect for those who like to prove themselves with the D-Pad. The fainthearted out there (grandmas looking for good VC games, for instance) should probably avoid, as getting past the first level is a challenge.
---
Xevious - NES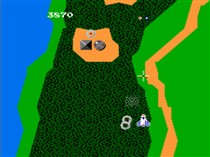 Released: 1990

1-2 Players

Cost: 500 Wii Points ($5)

Controllers: Wii Remote, Wii Classic, GameCube
Xevious is an arcade game from 1982 that was ported to the NES in 1990. It's a vertical scrolling shooter that features two forms of attack. The "Zapper" fires out in front of the player's ship, while the "blaster" will hit the bases shooting up from below. When using the "blaster", shots must be fired when the target is in a cross-hair that is out in front of the ship. This allows for the correct about of lead time.

What may have been a great game in 1982 looks pathetic next to other shooters that are already out on the VC, like Gradius. There really isn't any reason to pick this game up. Even shooter fans should spend their Wii points elsewhere.
---
Moto Roader - TurboGrafx-16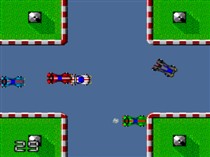 Released: 1989

1-5 Players

Cost: 600 Wii Points ($6)

Controllers: Wii Remote, Wii Classic, GameCube
In this week's non-shooter VC release, Moto Roader is a racing game that shares many traits to RC Pro-Am or the Micro Machines games. You start off with a basic car that crawls around the track, but you can upgrade it with a sleeker body, a more powerful engine and grippier tires. You can even buy weapons to add some firepower to your aresenal. The game was designed for five players in mind, so if you fall behind the game will warp you back to the center of the track to get back in the fight. Don't let it happen too many times, though, or you'll run out of gas.

Although this looks like it would be a good deal of fun with five humans, playing it by yourself is kind of a chore. The warping cars mean it's possible to lose a race on account of a car vaulting ahead of you at the last moment, and if you don't upgrade your car soon enough, you'll be doing more warping than racing. I like racing games a lot, but Moto Roader didn't do it for me.