This week's VC update sees three new releases, but curiously, Nintendo is nowhere to be found.
After last week's pittance, Nintendo decided to step aside and let some third parties take center stage. Along with last week's TG16 no-show, Konami and Hudson are packing a one-two punch for shoot-em'-up fans, who are no doubt in heaven right now. As always, you can get the vital info for each of this week's new releases and what our staff recommends for your persual.
---
Gradius - NES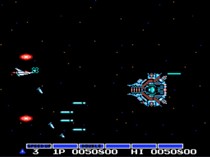 Released: 12/1986

1-2 Players

Cost: 500 Wii Points ($5)

Controllers: Wii Remote, Wii Classic, GameCube
Up, Up, Down, Down, Left, Right, Left, Right, 1, 2. Cheat in style in this classic scrolling shooter title from Konami. Players take on the role of Vic Viper as they fly the little ship through seven stages of obscene obstacles and bosses. Collect power-ups by saving up for the item you want on the famous power meter. Take speed right away or wait for the option ship. It's up to you.

Gradius is an entertaining scrolling shooter that was originally released over 20 years ago, yet still holds up today. Scrolling shooter fans will want to grab it right away, as it is the pioneer in the genre. Others may want to wait for the later games, like Life Force or Gradius III, so they can enjoy improved power-ups and co-op gameplay.
---
Soldier Blade - TurboGrafx-16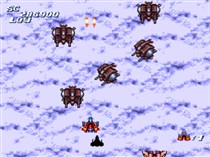 Released: 1992

1 Player

Cost: 600 Wii Points ($6)

Controllers: Wii Remote, Wii Classic, GameCube
Pulling another shump out of their hat, Hudson brings Soldier Blade to Virtual Console. This shooter sees players grabbing power-ups that change the type and strength of weapon attacks. They can also be unleashed to perform a big-money super attack when in a pickle. You'll probably need use of the three types of pickups to make it through the game's nasty bosses. Of course, you can jump into the timed Challenge mode, for when you don't want to spend an hour burning through all your continues. Because you know you're going to need them.

What can you say? It's another great TurboGrafx shooter in the Star Soldier tradition, ready and waiting for download. There are better shooters yet to come, but you still can't go wrong with Solider Blade if you want more old school love.
---
Dungeon Explorer - TurboGrafx-16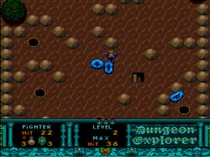 Released: 1989

1-5 Players

Cost: 600 Wii Points ($6)

Controllers: Wii Remote, Wii Classic, GameCube
Dungeon Explorer was actually supposed to be released during last week's (pathetic) Virtual Console update, but was delayed because of emulation issues. The game is a five-player top-down dungeon smash-'em up in the same vein as Gauntlet, where you can select a bunch of different characters (fighter, thief, warlock, witch, bishop, elf, bard or gnome), each with their own traits. One of those traits is very low life, since just about every type of character can die very easily. There's strength in numbers, since up to five players can battle together. (You'll need at least one GameCube controller to do that.)

Five player co-op is nice, and the music is pretty good, but Dungeon Explorer is ultimately an unimpressive clone of Gauntlet with some RPG elements thrown in there. Given what else is available for the TG16, you're probably better off spending the 600 points elsewhere.