A free, fun, and ultimately useless app.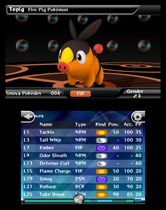 Ever want to see Serperior in 3D? Well, now you can. Pokédex 3D, which you can get right now at the eShop for a whopping free ninety-nine, allows you to view all of the Unova Pokémon in eye-popping 3D, their stats and - best of all - their entire learned and TM-based movelists, and descriptions of the moves, and all of the other Pokémon that can learn that move. You also get their egg group, abilities, and AR sticker. It's surprisingly robust and makes those giant player's guides redundant. The Pokémon look great, much better than in any Pokémon Stadium type game. They even animate when you tap one of the onscreen buttons, and you can read their Black and White Pokédex descriptions.
The most disappointing portion of the app is how you acquire new Pokémon. When you download Pokédex 3D, everyone starts with the same 16 Pokémon. To acquire new Pokémon, you have to turn on SpotPass, at which point you can check your Pokédex multiple times a day and discover three new random Pokémon. Yesterday, for example, I got Lilipup, Throh, and Cottenee. To speed up the process, go to this website and follow the instructions to read the AR stickers of all the Unova Pokémon. In doing so, you'll also unlock a few Legendaries on the fly - which implies they are not randomized and must be scanned to be obtained. If you have friends with Pokédex 3D, you can exchange Pokémon wirelessly.
You can also use the AR stickers to take real-world pictures of these Pokémon, although because the AR stickers are onscreen, you kind of need a second 3DS to take pictures of them, though I suspect you can crudely draw an AR sticker and possibly do it that way (they're simple block-based designs). Taking pictures also unlocks more stickers, bizarrely.
The menu gives you a lot of options, too. You can change the background, display color, and language. There's a mysterious "update" button too, the purpose of which is currently unknown. All in all, Pokédex 3D can't be beat for the price, and it's very fun to see your favorite Unova Pokémon modeled so well in 3D.