The Switch and Wii U share the top slots perfectly.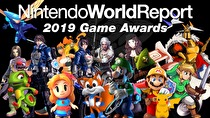 #5: Super Mario Maker
Platform: Wii U
Release: September 2015
In a time where Wii U exclusives were a rare ordeal, Super Mario Maker was a phenomenon that brought everyone together for a celebration of 30 years of Mario. For a time, everyone was making, playing, and streaming levels across the world. Course parts and themes from four Mario games, plus the addition of Mystery Mushroom Costumes, allowed for anyone's wildest Mario dreams to be areality. No game made better use of the Wii U GamePad and, millions of user created levels later, Super Mario Maker provided endless fun for everyone who owned a Wii U. - Brett Posner-Ferdman
---
#4: Super Smash Bros. Ultimate
Platform: Switch
Release: December 2018
Although not everyTHING is here in Super Smash Bros Ultimate (we still don't have Break the Targets, Coin Battles, or Poké Floats), there's still time to add all those things - and it certainly lives up to the hype of everyONE being here. By the end of next year, there'll be over 80 playable characters with more than 100 skins playable. But it's not just the character count that's huge for Smash. It's got the biggest single player we've ever had in a Smash Bros, the most things to collect, and will end up with the longest DLC support of any Nintendo game by the time it's all over. We've got a due date for Smash Ultimate's last character addition more than three years after the game's release. I can take Joker from Persona 5 into a fight with Terry Bogard, Ryu, Simon Belmont, a Piranha Plant, RIDLEY, Lucina, and a Splatoon Inkling. That old EGM April Fool's joke involving unlocking Sonic in Melee wound up being eerily prescient—although none of us could've possibly imagined what the future would bring.
And all the roster in the world doesn't matter if the game isn't good. Remember PlayStation All Stars Battle Royale? Yeah, neither does Sony. Smash's core game is so flexible that it works for those of us who consider it a party game and just want to spike Fox McCloud with a selection of fine Fire Emblem sword users, or for the crowd who made it the main event of the world's biggest fighting game series over Street Fighter. There's probably some way you can have fun with Smash Ultimate, and if none of the built-in options work for you, either make it yourself or just wait a couple of months - your main is coming. Trust me. - Donald Theriault
---
#3: Splatoon
Platform: Wii U
Release: May 2015
After years of focussing on making new entries in their established franchises, Nintendo finally decided to create a brand new IP in 2015. Splatoon was a hit, combining Nintendo's usual charm into the over crowded shooter genre, and spawning a community of splatters around the globe. Splatoon stood out for being fun, frantic, and unique, giving many people an excuse to buy a Wii U. There is no question that no other shooter was this fresh in the 2010's. - Brett Posner-Ferdman
---
#2: Super Mario Odyssey
Platform: Switch
Release: October 2017
The renamed EAD Tokyo (now EPD Tokyo) had three different Mario games release in the 2010s, and all three of them were on the initial list for Game of the Decade. But in the end, there could be only one - and the voters put it in the silver medal position. 2017 was a hell of a year, as it turned out.
One underappreciated aspect of the most recent Mario outing, Super Mario Odyssey, is that it finally did away with the lives system that dates back to Donkey Kong, making this Super Mario 64 spiritual successor much more fun to explore since it only costs a few coins if you mess up. The open structure of Odyssey's menagerie of worlds is made possible in part by this meager death tax, because it'll be necessary to take a lot of chances and get messy as you try to save Peach from the mother of all shotgun weddings. Plus, Odyssey may feature the most effective tribute of all time, bringing Pauline back and creating the amazingly fun Jump Up, Super Star sequence. Mario's newest power—transmorgrifying into other creatures—is endlessly entertaining and leads to some incredibly creative, surprising sequences. - Donald Theriault
---
#1: The Legend of Zelda: Breath of the Wild
Platform: Wii U / Switch
Release: March 2017
I can't remember the last time I fell in love with a game this hard. Breath of the Wild is like a new genre; "open world" in the literal sense. Unlike your typical open world game, the map is not polluted with a dozen different icons representing individual missions. Your goal here is to explore Hyrule to your heart's content, critical path the story stuff, find all the Shrines, or some combination of all three. I marveled over every square foot of this enormous, expansive version of Hyrule.
I gasped at the impact crater on the NE corner of the map. I teared up the first time one I saw a dragon flying overhead. My jaw dropped when I noticed the enormous Vah Rudania beast crawling around the top of Death Mountain, and I'm still finding new, beautiful things in this game after 150+ hours (and somehow still missing a few Shrines). Every time I load this game up, I have a blast. Breath of the Wild is an absolute joy, and I can't think of a more fitting Game of the Decade. - Zach Miller