Something to flag to your friends who haven't entered the market yet.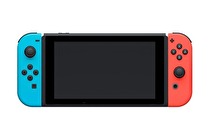 The general Nintendo Switch Black Friday bundle is $299.99 w/included Mario Kart 8 Deluxe. It's the same as last year, right down to the launch chipset: this is NOT the remodeled Switch released earlier this year.
GameStop is tossing in a $25 gift card with any Switch Lite purchase ($199.99).
All retailers have the new Sega Genesis Mini for $49.99 US.
GameStop's used consoles include a $99 New 3DS XL, a $79 32GB Wii U, and a $39.99 Wii.
Accessories:
microSD card deals:
$14.99 for 128GB (GameStop)
Controllers:
GameStop: Wireless GameCube style cotrollers for $34.99, $12.99 fade model Wired Pro Controller, $14.99 Wired Fight Pad Pro.
Target: $59.99 Joy-Con Pairs
Walmart: $29 Power A Wireless Nintendo Switch Controllers
Best Buy: $19.99 Poke Ball Plus, $59.99 Joy Con Set, $14.99 PowerA Wired Controllers
Other:
Target: $15 1 yr Nintendo Switch Online (individual) cards, $19.99 Traveler GoPlay Action Pack (screen protector, game/micro SD case, grips, screen cloth), 50% off select case