Let's spend the Wednesday of XenoWeek discussing the greatness of X.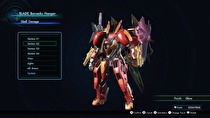 So Xenoblade Chronicles X is a pretty good game, especially if you ask John Rairdin.
Today, John is going to try to convince you that your vote in the Xenoblade poll should be going to X. You can read his passionate explanation of why Xenoblade X means so much to him here.
Also take a few minutes to check out his breakdown of just how big the world of Xenoblade X truly is.
And after all that, don't forget to vote for your favorite Xenoblade game clicking on the graphic below.