The passing of Satoru Iwata knocked Nintendo for a loop.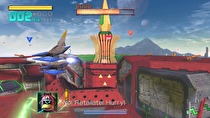 One of the other E3 wishes was Devil's Third – following its 2014 E3 appearance it went completely dark, not even appearing at the 2015 show despite having Japanese and European releases announced. European previews in July quickly granted the wish by pointing out that the game was crap, and all territories were burying it in their own way (Amazon exclusive in Japan, limited European release, NoA trying to pass it to a different publisher before finally printing less copies than Shovel Knight, a 1.5 year old indie game, got). The sum total of the game's marketing: A subtitled Youtube video that looked for all the world like it came from Daesh.
August saw the drop of Nintendo's holiday lineup, which some people wished would change. And it did: Star Fox Zero, previously tabbed for the "Nintendo Day" slot of the last Friday before US Thanksgiving, slid all the way to April 2016. Nintendo did have a banging month around the holidays – unfortunately, that was December, with its grand slam of Xenoblade X, FAST Racing NEO, SteamWorld Heist and Minecraft. Three of which are digital only for now. And of course, that left November's Wii U releases as the aforementioned tennis and board games.
September was Super Mario Maker month, and the hope was people would be able to dive right in and make levels on par with the games that inspired it and the cream would rise to the top. That lasted about an hour – once everything was unlocked – before the catalog became filled with automatic levels and levels deemed too hard for Kaizo Mario ROM hacks. (For more of the latter, see the entire level history of GiantBomb's "Dirty" Dan Ryckert.) It took until December before the screenshots with rows of hexadecimal characters stopped flooding social media with the introduction of the Super Mario Maker Bookmark.
The scariest thing in October was a Twilight Princess leak in the eShop, which led to the discovery of dozens of Virtual Console titles. North American fans hoped for an acceleration of the 1 a week VC schedule – broken only usually by E3 and the month of April – but a super-majority of the titles were for Japan with a few in Europe. North America didn't even take advantage of free Back to the Future day marketing by launching Wild Gunman's NES version, as Europe did. And so, the wait until April continues apace. But hey, maybe we'll get Mother 3 this time? It's out in Japan, after all.
The Nintendo Direct took a hiatus following the death of Satoru Iwata in July, returning for one last run in the traditional format in November. Despite Nintendo stating outright that there would be no NX news, many hoped for at least a megaton of a similar magnitude. The two biggest pieces of news that hadn't already leaked – Dragon Quests coming west and Cloud in Smash – continued to show love for the RPG, but pundits were disappointed that the closer was basically a tease for another frickin' Fire Emblem character and… wait, Bayonetta's in Smash? OK, never mind then.
Finally came the NWR Telethon in early December, and we actually managed to not only get a Nintendo representative, but it was Nintendo's top man in the indie scene Damon Baker who joined us. At the end of his segment he teased a major announcement and people who forgot that we were talking to Nintendo's indie head imagined what could join Bayonetta on the 3rd party train. As it turned out, it was Minecraft – a big deal for being a Microsoft published title on the Wii U, but the Wii U version is the most expensive and some promised features are coming in updates. But on the whole, most people will take it, if its place on the "all time" eShop charts in Japan (9th overall) is any indication.
For many people, 2015 was the Year of Dreams. It seemed like there was a major announcement every time you turned around. But there's always a catch to these things, and that's never been more true than in 2015. Even that turkey was a little dry.