2015 isn't done but how does it compare so far to other years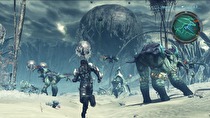 Now where does 2015 possibly slot in? My gut is saying right above the 2012, the seventh-best year on this list. A lot of the final conclusions on 2015 are still up in the air, but so far, Super Mario Maker and Yoshi's Woolly World have started the season off right. And while your mileage might vary on Animal Crossing: Happy Home Designer, Chibi-Robo: Zip Lash, and The Legend of Zelda: Tri Force Heroes, I'm feeling good about each of those being better than 2012's Paper Mario: Sticker Star.
As for what's ahead in 2015's holiday lineup, Xenoblade Chronicles X is looking like it will live up to the hype. Yes, Mario Tennis: Ultra Smash and Devil's Third look like bombs, but the new Xenoblade, Mario Maker, and Woolly World stand on their own as a dynamite trifecta.