The King Nintendo Fanboy decided that it wasn't enough to make a simple stage.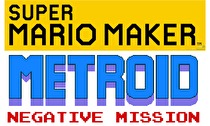 It's no secret that Super Mario Maker is the game I've been waiting all year for. I love Mario and I've always wanted to try making levels in a game. So after doing one simple stage, I decided to do something more complex for my second. I attempted to recreate the original Metroid within Super Mario Maker to the best of my ability. I call the end result Metroid: Negative Mission.
This Feature is broken up into several parts. At first I describe the stage structure to hopefully give you a better idea as to what my design process was like. Then I discuss the lessons that I learned while designing this micro adventure. After that I describe the satisfaction that can come from making a good stage. For Metroid fans, I also point out some of the many hidden references in this stage. Finally, I have a little guide that tells players about all the secrets that can be found within the stage.
I highly recommend playing the stage before continuing, but if you can't here is a video of someone playing though it for context.
Metroid Negative Mission (3.0)
Level Code: DD27-0000-0072-EBA3
(I also came up with this instruction manual for the adventure too.)