What this game could be if everything works out for the best...or the worst!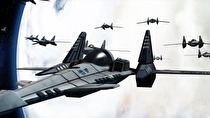 I've been thinking about the new Star Fox Wii U game a lot since it was announced. Mainly because I really want a Star Fox game to be a worthy sequel to Star Fox 64, which up to this point, hasn't really happened. But my hopes and wishes have been dashed before (Assault), so I really don't know what to expect from this upcoming Wii U game. In fact, I had a dream that I was assigned to review the game, I dreamt it was so unbelievably awesome that it became my game of 2015. However, the following night, probably after eating too much spicy food, I had a similar dream, but it ended with me giving the game a dismal score.
This feature is the written form of those two dreams. The first is the review I wish, hope, and pray that I could potentially write at the end of this year (Heaven). The other is the review I hope never comes true (Hell).
But please remember, this is entirely fictitious and thus far has only occurred in my fevered dreams! In fact, if any of this ends up being true, I will eat my own hat.