Mix together RPGs, rhythm, platforming, and racing to get this batch of games.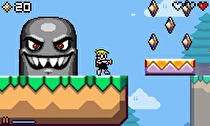 15. Mutant Mudds
Publisher: Renegade Kid
Developer: Renegade Kid
Release Date:: January 26, 2012
Review Score:: 9/10
Back in the beginning of 2012, we called Mutant Mudds one of the best eShop games. Three years later, and that's still true. This deliberate platformer that makes wonderful use of stereoscopic 3D was and is an indie showpiece for the system. With countless updates and improvements over the years, Mutant Mudds is fun, exciting platformer that also happens to have some great music (seemingly a requisite for good games).
14. Pokémon Omega Ruby/Alpha Sapphire
Publisher: Nintendo
Developer: Game Freak
Release Date:: November 21, 2014
Review Score:: 9/10
We all knew this was coming eventually, but even still, these remakes of Pokémon Ruby and Sapphire were special. Taking the engine from Pokémon X/Y, Omega Ruby and Alpha Sapphire streamline the Poké-experience in wonderful ways (sneaking anyone?) while still retaining the compelling story and unique aspects of the third generation of the venerable franchise. And you know? Some of those Mega Pokémon looked super cool even if it was a pain to collect all of them.
13. Mario Kart 7
Publisher: Nintendo
Developer: Nintendo
Release Date:: December 4, 2011
Review Score:: 8.5/10
A necessary release in the 3DS' first holiday season, Mario Kart 7 added a fine-tuned online experience to the young handheld's library. With stunning stereoscopic 3D and a variety of tweaks to the formula, the 3DS iteration in the franchise was just as fun as other entries in the series. The new air and sea mechanics added a new dimension to races, as did some of the new races that didn't feature laps and were just a point-to-point race.
12. Bravely Default
Publisher: Nintendo
Developer: Silicon Studio
Release Date:: February 7, 2014
Review Score:: 9.5/10, 9/10
While Square Enix didn't see fit to release this modern classic RPG in the west, it's a good thing Nintendo did. If it weren't for them, we would never have been able to experience this delightful throwback to the RPGs of yore that added new mechanics to streamline battling and exploration. Bravely Default is just a perfect fit for the 3DS, especially with its compelling StreetPass use. The story might have gotten a little long-winded in spots, but it's rare in this day and age when a new RPG deserves to be compared to SNES-era Square Enix classics.
11. Theatrhythm Final Fantasy: Curtain Call
Publisher: Square-Enix
Developer: indies zero
Release Date:: September 16, 2014
Review Score:: 9/10, 9/10
If it weren't for Curtain Call, the original Theatrhythm would surely be on this list. However, Curtain Call so thoroughly trumps its predecessor that the original game doesn't even need to exist at all. Adding more songs, more modes, and more multiplayer options, Curtain Call is even more of a love letter to Final Fantasy than its predecessor. Throw in the consistent stream of DLC, and this game is still going with tracks from Chrono Trigger, Bravely Default, Secret of Mana, and more being added every few weeks.