When John isn't making video's he plays eShop games. Here are his favorites.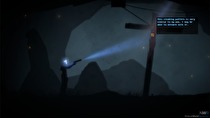 Wii U
5. Thomas was Alone
The most riveting story ever told about a gang of quadrilaterals. Thomas was Alone collects a series of simple but varied mechanics into a wide array of puzzles. Add a bit of humor and a great story and you've got yourself a winner.
4. Guacamelee
It ain't Metroid, but it will certainly do. Guacamelee combines a beautiful medroidvania style adventure with a deep and enthralling combat system. Complete with Chozo-like statues, it should help fill the Morph Ball shaped hole in your heart.
3. Stick it to the Man
This whimsical adventure almost feels like the world of Paper Mario turned upside down. A short but very satisfying point-and-click adventure with plenty of laughs along the way.
2. The Swapper
A dark science fiction adventure, The Swapper's great puzzle design is punctuated by subtle undertones of human rights, the value of life, and what is to be alive.
1. The Fall
An incredible story that explores the concepts of truth as it pertains to right and wrong. Arid's journey as an artificial intelligence struggling against the laws that bind her makes for a rich narrative that should not be missed by anyone.
Nintendo 3DS
5. Retro City Rampage DX
The pseudo-retro GTA parody feels right at home on the 3DS. It's the perfect game to pick up, play a mission, and leave. If you've yet to play this game, the 3DS version is the way to go.
4. The Keep
A great hidden gem on the eShop. The Keep is a real time, first person, dungeon crawling RPG. It's very deep with tons of upgrades and armor along with a unique customizable magic system. There's nothing else quite like this on the eShop.
3. Moon Chronicles
Renegade Kid's remastered version of Moon is a great premiere FPS on 3DS. Plenty of control options keep the game accessible while not compromising the original material. Not to mention it runs at 60 frames per second even with 3D cranked all the way up.
2. Xeodrifter
Despite a very short development time, Xeodrifter manages to pull off something magical. It perfectly combines the run-and-gun gameplay of Mega Man with the world exploration of Metroid. This results in a very compact bundle of gaming bliss.
1. Shovel Knight
Plenty has been said about this game. It's good.