The Wii U continues to get a lot of love and the 3DS isn't far behind.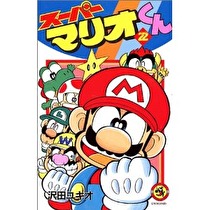 A hodgepodge of releases are spread across the eShops this week with tons of genres represented on both Nintendo platforms. While the Wii U is getting more notable titles this week in Japan, there are still some cool releases on the 3DS this week. The Super Mario-kun manga, delivered via the Dokopon Choice series, sees its third release this week. For those out of the loop, Super Mario-kun is a manga series that features Mario and many characters from the Mario universe. It's not exactly canonical (is anyone honestly keeping track?), but it has different settings from tons of different Mario related games ranging from Super Mario World, Luigi's Mansion, Super Mario 3D World, and more. It's primarily aimed at kids and has unfortunately never seen a release outside of Japan. The first issue was published in the early '90s and the series still sees new releases to this day.
Changing gears to the Wii U side of things, a few big name Western titles have finally made their way to the eShop in Japan - Armillo and Art of Balance. The Virtual Console is still pumping out titles this week bringing gamers in Japan Gomoku Narabe Renju (a Nintendo published version of the Japanese game Go), Nobunaga's Ambition, and Final Fight 3. For a complete list of all of the releases this week, be sure to check out the round-up below!
3DS
Downloadable Titles
Simple DL Series Vol. 33 The Nekketsu! Honō no Ramen-ya - 520 yen
AiRace: X - 250 yen
Mushi Monster Light Super Battle - 500 yen
Dokopon Choice: Super Mario-kun Vol. 3 21 - 30-kan Pack - 4,400 yen
Nurugurumi no Kêkiya-san Mini Mahō no Patissiere - 500 yen
Osawari Tantei Ozawa Rina Nameko Rhythm Demo - FREE
Virtual Console
NA (no titles since 5/7)
Wii U
Downloadable Titles
Armillo the Armadillo (Armillo) - 800 yen
Art of Balance - 800 yen
Virtual Console
Gomoku Narabe Renju (Famicom) - 514 yen
Super Nobunaga no Yabō Zenkoku-ban (Nobunaga's Ambition, Super Famicom) - 823 yen
Final Fight Tough (Final Fight 3, Super Famicom) - 823 yen