Tons of downloads, including a free to play title from Sega, are coming to Nintendo platforms!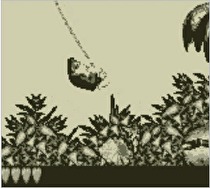 Even though Game Boy Advance games are coming to the Wii U this week, there is at least one other title that gamers in Japan can look forward to on the Nintendo 3DS. Donkey Kong Land, known as Super Donkey Kong GB here, was originally released on the Game Boy in 1995 and is a follow up to the popular Donkey Kong Country on the Super Nintendo. Land features four worlds and sports similar gameplay mechanics to the console title. Gamers can play as Donkey and Diddy Kong and can even occasionally use animal buddies Rambi and Expresso the Ostrich.
As was mentioned above, Game Boy Advance titles are coming in full force to the Wii U starting on April 3. The titles available in Japan are largely the same as what is being released in the West with exception of a few titles - Super Mario Advance 2: Super Mario World and the compilation Advance Wars title featuring both Advance Wars 1 and 2.
Also, Initial D Perfect Shift Online, an online free to play racer from Sega for the 3DS, also releases today. If you're into anime, racing, and free games, this could potentially be the game for you! For a complete list at all of the releases this week, check everything out below!
3DS
Downloadable Titles
Simple DL Series Vol. 25 The Solitaire Klondike Spider - 300 yen
Kashiramoji D (Initial D) Perfect Shift Online - FREE
Sensha 3D - 700 yen
Dokopon Choice Dragon Ball Color-ban Jisōningen, Cell-hen 1 - 8-kan + Omake Pack - 3,600 yen
Maru Gōkaku! IT Passport Shiken Heisei 26-nendo-ban - 2,800 yen
Dorakazu Nobita no Sūji Daibōken (retail title) - 4,937 yen
Virtual Console
Super Donkey Kong GB (Donkey Kong Land, Game Boy) - 411 yen
Wii U
Downloadable Titles
Alphadia Genesis - 1,944 yen
Virtual Console
F-Zero for Game Boy Advance (F-Zero: Maximum Velocity, Game Boy Advance) - 702 yen (from 4/3)
Ōgon no Taiyō: Hirakareshi Fūin (Golden Sun, Game Boy Advance) - 702 yen (from 4/3)
Game Boy Wars Advance 1 + 2 (Advance Wars 1 + 2, Game Boy Advance) - 702 yen (from 4/3)
Super Mario Advance 2 (Super Mario Advance 2: Super Mario World, Game Boy Advance) - 702 yen (from 4/3)
Hoshi no Kirby: Kagami no Daimeikū (Kirby and The Amazing Mirror, Game Boy Advance) - 702 yen (from 4/3)
Made in Wario (WarioWare, Inc.: Mega Microgame$, Game Boy Advance) - 702 yen (from 4/3)