Two additional songs for the upcoming Theatrhythm Final Fantasy and some VC love arrive today.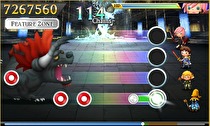 While Smash Bros. may have been THE thing to talk about about over the past day or so, the eShop train keeps on coming to homes across Japan this week. On top of all of the Smash Bros. information (the entire Nintendo Direct is available on both Nintendo eShops), there still are some great additions to Nintendo's digital service on both platforms. On the Nintendo 3DS, Square Enix has just released another demo for Theatrhythm Final Fantasy: Curtain Call. This demo has two songs, "Edgar and Mash's (Sabin) Theme" from Final Fantasy VI and "Those Who Fight (Piano Version)," from Final Fantasy VII: Advent Children.
The Virtual Console on both platforms got a little bit of love this week, with Adventures of Lolo hitting the 3DS. Super Punch Out!!, as well as a Super Famicom strategy title entitled Hanjuku Hero arrived on the Wii U. Also, for the third week in a row the Wii U is seeing more of the much needed downloadable titles added to the library. Sure, they might not seem like the best releases out there, but it's tons better than the support that we've seen over the past year! For a complete round-up of the releases in Japan this week, check out everything below!
3DS
Downloadable Titles
Skypeace - 300 yen
Dokopon Choice Monster Hunter Epic 1 - 3-kan & Episode - Zen 3-kan 6-kan Pack - 3,270 yen
Dokopon Choice Ro-Kyu-Bu! Vol 1. 1 - 5-kan + Omake Pack - 3,100 yen
Crayon Shin-chan Arashi o Yobu Kasukabe Eiga Stars (retail title) - 5,119 yen
Penguin no Mondai + Bakushō! Roulette Battle!! (retail title) - 5,184 yen
Guruguru Tamagocha DEMO - FREE
Theatrhythm Final Fantasy: Curtain Call DEMO (Two new songs) - FREE
Virtual Console
Adventures of Lolo (Famicom) - 514 yen
Wii U
Downloadable Titles
Simple DL Series for Wii U Vol. 1 The MIsshitsu kara no Dasshutsu - Subete no Hajimari 16 no Nazo - 1,000 yen
D.M.L.C. - Death Match Love Come(dy) - 1,080 yen
Virtual Console
Hanjuku Hero (Famicom) - 514 yen
Super Punch Out!! (Super Famicom) - 823 yen