Saucy dancing and fiery lava pits, a good combination.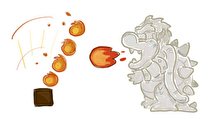 Who: Shantae

Titular Star of the series of handheld platformers, Shantae is a half-genie who lives in the small fishing port of Scuttle Town, located in the magical, Arabian-themed world of Sequin Land. Along with her ragtag group of friends, she protects the town from repeated attacks by pirate captain Risky Boots. She's a little naïve at times, but has a pure heart and a spunky personality that charms most anyone who's played her games.

Why She Deserves a Spot:

Apart from being incredibly cute, Shantae has a unique fighting style that would lend itself to the Smash Bros. mechanics perfectly. She's agile, swift on her feet, and can fight by flicking her ponytail like a whip, á-la the Belmonts of the Castlevania series. Everything she does in her game series is done with such grace, finesse, and bouncy enthusiasm that seeing her in 3D on the Smash Bros. battlefield would be a true treat for her fans.

What is perhaps her most important power gives her the ability to transform into one of several magical animals by performing different belly dancing moves. As a monkey, she can scale walls and leap large distances, while as an elephant, she can barge through stone obstacles or smash holes in the floor. She can even transform into mythical creatures such as harpies and mermaids, if the situation calls for it. These transformations could easily be alternated between in the same way as the Pokémon Trainer from Brawl, which had your playable character alternate between Squirtle, Ivysaur, and Charizard, each with their own move set and control scheme. A quick combo could show Shantae perform a few shakes of her hips (roughly the same amount of time as the Pokémon would take to return to their Ball and the new one to pop out) and presto: magical creature! Those dance moves would even work as suitable taunts.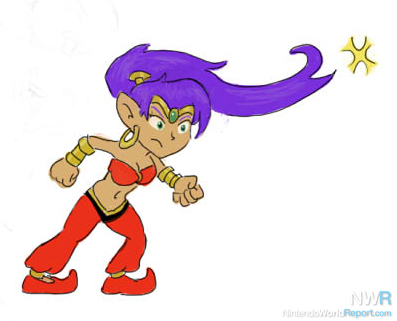 Both of Shantae's previous titles started on Nintendo's handhelds, with a third game confirmed to be in the works, which should be more than enough to earn her a guest invitation to the next Smash tournament. If she were to get into the game, this could also open the gates for a few guest character Assist Trophies as well—perhaps the nefarious Risky Boots could appear to slice up some opponents with her cutlass, or Shantae's untrustworthy, undead accomplice Rottytops could latch onto the nearest fighter, ReDead-style, and take a few hearty chomps out of their juicy brains in an adorably playful—I mean, painful way.

If the next game were to incorporate Final Smash moves, Shantae's could be a transformation into her mythical harpy form, allowing her to fly around and slash opponents with her talons. Or perhaps a spotlight could illuminate the stage, and she would perform such an enticing dance (like a certain mini-game in her original GBC appearance) from which the other opponents all pass out from excitement, allowing her to kick them off the stage at her leisure.

First Appearance: Shantae (Game Boy Color) (2002)

Latest Appearance: Shantae: Risky's Revenge (DSiWare) (2010)

Bonus Dream: Stage
Where: Bowser's Castle

When you think about Bowser, it's not uncommon to return to the difficult levels you traverse to get to that final battle in each Mario game. A giant castle looming over the map screen at the game's end is as much a staple of the series as Bowser himself.

Why Does It Deserve a Stage?

It honestly baffles me that we've had three Smash Bros. games with no stage inspired by these iconic castles. Such an environment would have so much potential.

Picture a stage broken into several large rooms with connecting hallways. Each room could feature a different theme and "linger" on the screen for a set amount of time - say 15-30 seconds or so, then automatically scroll into the next room, kind of a combination between the Wario Ware and Mushroomy Kingdom stages in Brawl.
One room could hold a gigantic lava pit with a suspension bridge hanging precariously overhead; players could attack the bridge (or hit an axe like in the original Super Mario Bros.) to send unlucky opponents tumbling into the boiling broth below. Another room could resemble Bowser's throne room, with tall pillars, portraits of Bowser hung in the background, and checkerboard floor tiles. The room itself would be big and open, with plenty of space to move around—until a large Thwomp crashes down from the shadows above, smashing the floor and sending the players tumbling into the next room. You'd never know exactly where the Thwomp could land, giving you only split seconds to dodge it and avoid a careless KO!

Other rooms could feature spinning fire bars that require careful timing to avoid, a greenhouse choked with Piranha Plants, or even a sewer-like room with rising and lowering water levels to wash away unsuspecting fighters.
Even the connecting hallways could be full of tricks and traps. Remember those Bowser statues that would shoot fireballs or burning lasers as Mario approached them? Bullet Bill cannons could even be set up in strategic locations to pose a threat to anyone in their way. There could be trapdoors, pitfalls, or small lava pools with Podoboos (those sentient fireballs with beady black eyes) jumping out of them.
Perhaps one of the higher rooms could have a large, breakable window that leads out to one of Bowser's hovering airships, adding some sky-high outdoor acrobatics into the mix, complete with a raging thunderstorm in the background.

For one final challenge, the entire castle could start to crumble (as seen on the map screen in Super Mario Bros. 3 or Super Mario World), and players would have to frantically dodge falling rocks, debris, and pieces of the stage as they make their way to the now-open front gate before the whole cycle begins anew.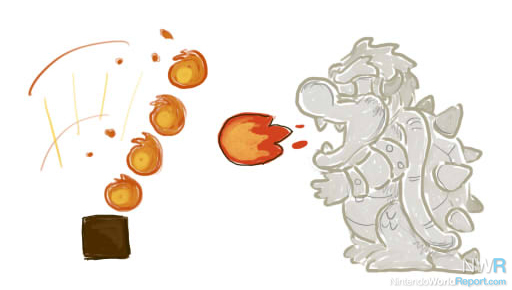 Music remixes from Bowser's castle in Super Mario World were included in Smash Bros. Brawl on the Wii, and Peach's Castle (specifically, the version from Super Mario 64) has had two separate stages built around it in the Smash Bros. series.
It's time this wrong was righted and Smash contestants get to duke it out in a true castle from the Mario series.

First Appearance: Super Mario Bros (NES) (1985)
Latest Appearance: New Super Mario Bros U (Wii U) (2012)