Pimp dat Pokémon.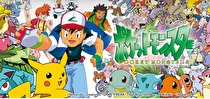 Some cool titles come out digitally this week, and I'm here to tell you all about them. First off, I want to clear something up from last week. I noted that Othello had been released on the Wii U eShop by Arc System Works. Well, I jumped the gun a little bit there, because the game is actually out this week. Sorry about that for all you keeping score at home. At any rate, not only are their three retail digital Puppy games on the 3DS (the ones with "Koinu" in the titles), there actually are a few interesting releases, including Pokémon-related stuff. Check out everything below to see what hit the eShop this week in Japan:
3DS
Downloadable Titles
Nicoli no Puzzle Yajirin - 500 yen
Pikkusu 3D - 400 yen
Majo to Yūsha - 400 yen
Tomodachi Collection Shin Seikatsu (retail title, 4/18) - 4,800 yen
Oshare de Kawaii Koinu to Asobo - Machi-hen (retail title, 4/18) - 4,800 yen
Oshare de Kawaii Koinu to Asobo - Umi-hen (retail title, 4/18) - 4,800 yen
Kawaii Koinu 3D (retail title, 4/18) - 4,800 yen
Virtual Console
Devil World (Famicom) - 500 yen
Wii U
Downloadable Titles
Othello - 500 yen
Virtual Console
Hoshi no Kirby Yume no Izumi no Monogatari - 30 yen (until 5/16)
Video Content
A handful of new video content came out on the eShop this week. On top of a new commercial for Tomodachi Collection, there are also gameplay and preview videos for Kirby's Adventure on Wii U, Nicoli no Puzzle Yajirin, Pikkusu 3D, Majo to Yūsha, Chari Sō DX, Devil World, and Super Robot Wars UX.
With Pokémon Rumble U coming out next week on the Wii U, Nintendo has put the game and the series on the forefront of the eShop. There are two videos for the upcoming downloadable title: one, a preview video, showing off gameplay elements and hyping up the NFC figures, while the other video focuses solely on gameplay. On the Wii U eShop, Nintendo has even made the first half of the first episode of Pokémon available (probably with the other half coming at a later date). Not only that, but Pokémon is proudly being used to entice Wii U owners to try out Hulu with an advertisement crawling with the little buggers. There are nearly 300 episodes from the original series, several movies, and episodes from Pokémon Best Wishes on the service. It's a good time to be a Pokémon fan in Japan.
Of course, with the Nintendo Direct hitting the airwaves, you can rest easy knowing that Nintendo will more than likely have the event in its entirety available on the eShop here in Japan.