Mario's headed back to the final frontier.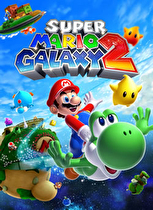 Though the first Mario Galaxy game made our list as well, we couldn't justify simply bundling these two great Wii games under a single entry. Each Galaxy game did something new, and deserves its own spot on the list. What makes Super Mario Galaxy 2 so special? The sequel gave Mario fans even more reason to love the plumber and his adventures. The first game brought a lot of new ideas to the table and executed most of them brilliantly, but still had some flaws. Super Mario Galaxy 2 came in and arguably perfected the game.
Super Mario Galaxy 2 isn't just some spillover content from the first game. With new physics puzzles and planets to discover, the game brings its own energy and style to the interstellar setting. This time around, Mario travels around the galaxy in a spaceship modeled after his own head, and the game progresses in the way similar to that of older Mario games. Players can pick levels from a line of stages and choose which challenges to tackle. In total, the game boasts over 240 stars to collect.
Along with its multitude of challenges, the game brings along a few new characters and enemies. Most notably, players can ride Yoshi around the galaxies. Eating up enemies and pooping out star bits makes Yoshi an invaluable ally and proves, yet again, why he's one of Mario's most frequent partners. Speaking of green things that follow Mario around: Luigi also makes an appearance in Super Mario Galaxy 2, bringing along his own sets of challenges. Players can choose between the brothers and determine what stars to pursue at each planet. With all these friends, it's hard to be afraid of the new enemies like the Mattermouths, Pinheads, and Silver Chomps. These additions to the Galaxy franchise are just the tip of the iceberg, though. With new characters and bosses to face, the game is never short on challenges.
Galaxy 2 included with a handful of new power-ups to help players out with its aforementioned challenges. Players have the chance to hover around flowers as Bee Mario, float about as Boo Mario, rocket across stages as Spring Mario, or burn up as Fire Mario. Each of power-ups adds new ways to play the game and explore each planet. For example, when starting out as Bee Mario, players can explore more of the planet than before by flying around obstacles that previously block their path. Some of the power-ups are even available during boss fights, giving Mario a whole new way to fight.
Super Mario Galaxy 2 is much more than a simple sequel. The game is a shining star that not only makes the platforming plumber's adventures better, it nearly perfects them. With hours of gameplay and more creativity than you can shake a stick at, this game stands out as one of Nintendo's—and the Wii's—finest.