Who are these young dudes making our new Mario game?

It's weird to think that when Yusuke Amano, the director of New Super Mario Bros. 2, was 4 years old, Super Mario Bros. came out in Japan. It's also weird to think that less than 10 years ago, he was making the Super Skills movies for Super Mario Advance 4. It's even weirder to think that Shigeru Miyamoto, Nintendo's renowned creator, is almost 30 years older than him.
Amano grew up, like most kids born in the '80s, adoring Nintendo. He loved them so much that he only applied to one company when he graduated college. Fortunately, he landed a job at Nintendo, as part of their debug team. His first project was the aforementioned Super Mario Advance 4: Super Mario Bros. 3. He joined late in production, though, and only worked on testing the game.
However, he did get to experience a form of downloadable content, as he worked on developing content for the e-Reader. He worked on Super Skills movies alongside Shigeyuki Asuke, who would later go on to develop New Super Mario Bros. Wii.
Following his Mario debut, Amano was part of the debug team on Brain Age and Animal Crossing: Wild World. He moved into a planning role on Big Brian Academy, and worked with Asuke again on New Super Mario Bros. Wii, where he was in his lead planning role.
While working on New Super Mario Bros. Wii, Amano joked to Star Fox developer Takaya Imamura about making a new entry in the series. After NSMBW wrapped, Amano was put on Star Fox 64 3D, working as the coordinator between Q-Games and Nintendo.

New Super Mario Bros. 2's Art Director, Masaaki Ishikawa, was spun up around the same time. Ishikawa did design work on Nintendogs, New Super Mario Bros., Mario Kart DS, Wii Sports, and New Super Mario Bros. Wii. Following his work on NSMBW, Ishikawa worked on Mario Kart 7, coordinating character and kart designs. He also worked closely with Retro Studios on the animation of the characters.
Around the end of that project, Ishikawa noted that whoever was going to have follow up to Super Mario 3D Land, which came out weeks before Mario Kart 7, is going to have a hard time. Shortly after development stopped on Mario Kart 7, he was asked to lead the art direction on New Super Mario Bros. 2.
Amano and Ishikawa aren't alone on the project, though. While the team working on New Super Mario Bros. 2 is relatively new to the world of side-scrolling Mario, they all have experience with the 3DS, whether they were at EAD Tokyo working on 3D Land or at EAD working on Mario Kart 7.
Most of the staff were also products of Takashi Tezuka's Mario Cram School. The idea behind the school was for developers from EAD and Software Planning & Development to learn how to design side-scrolling Mario level. Tezuka's philosophy, according to Amano, is that course design is the crux of 2D Mario games, so he led these classes to spread that knowledge throughout the company.
Amano didn't actually take part in first iteration of Mario Cram School, though, as he was busy working on Star Fox 64 3D at the time. However, because of his work on New Super Mario Bros. Wii as a planner, Tezuka didn't hesitate to reach out to him to direct New Super Mario Bros. 2.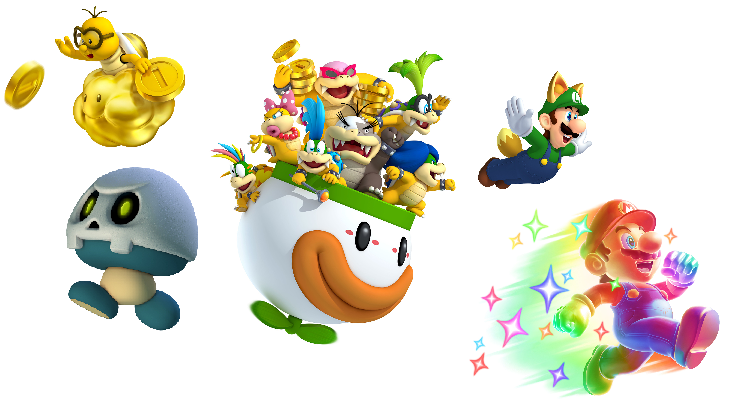 Under the tutelage of Tezuka and legendary Nintendo programmer Toshihiko Nakago, Amano and company began work on New Super Mario Bros. 2, though there was a different approach this time around. The team made the levels first before working in the mechanics. So, all the levels in the game were made, and then the new power-ups and mechanics were added in, shifting the levels around to make everything copacetic.
The team behind New Super Mario Bros. 2 might not have a lot of 2D Mario experience, since the 2D Mario team was working on New Super Mario Bros. U. Amano and Ishikawa are the elder statesmen on the team, with pasts that barely date back to the Game Boy Advance era. Fortunately, Tezuka and Nakago worked closely with the team to make sure it went smoothly, from its Mario Cram School origins to development.