Here's the 3DS lineup from E3 2012.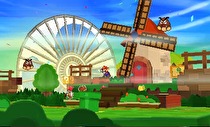 First-Party 3DS Games
Luigi's Mansion: Dark Moon (Developer: Next Level Games, Release Date: Holiday 2012)
Preview, Artwork, Screens, TYP's Impressions, E3 Demo Gameplay
Luigi's second ghostly solo adventure (now with an ominous new subtitle) looks to include a greater focus on solving puzzles alongside the series' ghost grabbing gameplay. The game takes place across multiple mansions this time, and provides Luigi with plenty of opportunities to be afraid.
New Super Mario Bros. 2 (Developer: Nintendo EAD, Release Date: August 19, 2012)
Pre-E3 Preview, Screens, Artwork, Zach's Impressions, Guillaume's Impressions, E3 Demo Footage
The newest of the New Super Mario Bros. games brings full-game co-op—and lots and lots of gold—to the traditional platforming of the NSMB formula, along with StreetPass functionality to share and compare Coin Rush scores.
Paper Mario: Sticker Star (Developer: Intelligent Systems, Release Date: Holiday 2012)
Screens, Artwork


The long-awaited (and freshly subtitled) handheld entry to the Paper Mario series swaps out a number of the series' RPG qualities for an emphasis on collecting and utilizing the stickers players find scattered about the world, in battle and throughout the environment.
Third-Party 3DS Games
Castlevania: Lords of Shadow - Mirror of Fate (Developer: Mercury Steam, Release Date: Fall 2012)

Screens, artwork, E3 preview, Zach's impressions
Spanning multiple generations and including four playable characters from different points in the Belmont lineage, this handheld follow up of sorts to 2010's Lords of Shadow looks to fill the notable Castlevania void on 3DS.
Epic Mickey: Power of Illusion (Developer: DreamRift, Release Date: Fall 2012)

Screens, artwork, pre-E3 preview, Guillaume's impressions , Neal's Impressions
A collaboration between Junction Point and DreamRift (of Henry Hatsworth and Monster Tale), Power of Illusion's 2D gameplay and nostalgia-laced Disney presentation are reminiscent of the classic Castle of Illusion, while also acting as a companion to the upcoming Epic Mickey to on consoles.

Heroes of Ruin

(Develerop: n-Space, Release Date: July 17, 2012)

Screens, artwork, pre-E3 preview, James' impressions
An ambitious portable dungeon crawler, Heroes of Ruin features a number of classes, skill tress, and play styles, as well as four-player cooperative play and an online network for trading collected loot and items among other players.

Kingdom Hearts 3D: Dream Drop Distance

(Developer: Square Enix, Release Date: July 31, 2012)

Screens, artwork, Patrick's impressions
The latest in the Disney-centric RPG series includes the expected slate of new locales and classic characters, but also several mechanics to create a smooth and interesting combat experience.
LEGO Batman 2: DC Super Heroes (Developer: TT Games, Release Date: Summer 2012)

Screens, artwork
The sequel to the massively successful LEGO Batman game, LB2 adds a number of DC heroes (and villains) to the lighthearted mix, including Superman, Wonder Woman, and Green Lantern.
Rabbids Rumble (Developer: Headstrong Studio, Release Date: Q3 2012)

Screens, artwork
To recapture the escaped Rabbids, players must go through the seven worlds of unhinged mini-games in Rumble, which also features StreetPass, SpotPass, and AR functionality.
Marvel Pinball 3D

(Developer: Zen Studios, Release Date: Q3 2012)

Screens, Patrick's impressions
The makers of Zen Pinball 3D adapt their 3DS pinball design to accommodate the addition of tables featuring notable Marvel superheroes.
NightSky

(Developer: Nicalis, Release Date: Q1 2012)

Screens, artwork, Guillaume's impressions
This physics-based indie puzzle-platformer, originally intended for release on WiiWare, makes its way to the 3DS eShop, and has players navigating an orb through a variety of silhouetted environments.
Cave Story +

(Developer: Nicalis, Release Date: Q1 2012)


Though it's seen release on the 3DS twice before, this version of the lauded indie platformer bundles all the bonus content found in the Steam release of the game, including jukebox mode, adjustable controls, Boss Rush, Curly Story, Hell Time Attack, Wind Fortress, Nemesis Challenge, and more.
Bomb Monkey

(Developer: Renegade Kid, Release Date: Q3 2012)

Screens, impressions
Renegade Kid's upcoming eShop title flips the 3DS on its side to create a simple yet challenging block breaking game with a variety of gameplay modes for single and multiplayer.

escapeVektor

(Developer: Nnooo, Release Date: Q3 2012)

Impressions
Originally a planned as a four-part WiiWare title, the entire escapeVektor package (in which players attempt to trace over the lines of each stage while avoiding enemies and obstacles) is coming to the 3DS eShop with 3D effects, online leaderboards, and more.