A demo for the 999 sequel, a Theatrhythm demo, and Punch-Out!! all arrive on the same day.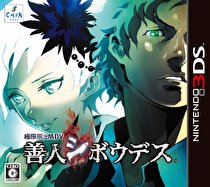 It's been an action-packed week for the Nintendo eShop in Japan. A few more demos arrived, and the third Famicom title hit the eShop. Here's a complete list of what all showed up this week:
3DS Downloadable Titles
Kyokugen Dasshutsu Adv: Zennin Shibō Desu Demo (999 Sequel) – FREE
Theatrythm Final Fantasy Demo 2 – FREE
Denpai Ningen no RPG Demo – FREE
One Piece Unlimited Cruise Special Demo – FREE
Virtual Console
Punch-Out!! (Famicom) – 500 yen
Video Content
As always, there are tons of videos available to watch on the eShop in Japan, including videos for most big-name releases and even hours of content for things like Game Center CX. This week, as usual, a few new videos surfaced. Namco-Bandai delivered a new video highlighting features from the upcoming Tekken 3D: Prime Edition. If you can get over one of the characters saying "Excellent!" every fifteen seconds, you can get a quick glance at the 41 characters in the game and hear about how the game will run at 60 frames per second, even with the 3D on.
Nintendo also released a new trailer focusing on the recently released Kiki Trick. The video shows various puzzles in the game, including one where you have to guess what a character is saying through a garbled filter and another that takes place at a train station, where you have to hand customers the item they want to buy. With trains passing overhead almost constantly, though, it makes it difficult to decipher what each customer wants.
Software Impressions
This week, I downloaded every piece of software that was released. I put a little bit of time into the demo for Kyokugen Dasshutsu Adv: Zennin Shibō Desu which roughly translates to Extreme Escape Adventure: Good People Die. This title is developed by Chunsoft and is the successor to the DS title 999: Nine Hours, Nine Persons, Nine Doors.
In the demo for Good People Die, the game starts by giving you some background on the events of 999 (which you can read about in Andy Goergon's review). From there, the demo focuses on two characters from the original game, Sigma and Phi. Players will have to figure out how to get out of an enclosed area with four numbered doors so they can eventually make their way to the exit of the area. By searching through the numbered doors and picking up items along the way, you can eventually make your way out.
Unlike its predecessor, Good People Die features 3D polygonal character models and is fully voice acted. However, there still is quite a bit of text to read. Even though I've never played 999, I have heard tons about it on the Radio Free Nintendo Podcast from James Jones and learned quite a bit about it from reading Andy's review. Good People Die seems to capture the same sinister aesthetic of the original game but just does it with a higher budget and voice actors. Good People Die hits store shelves in Japan on February 16. There is no word if or when the title will release in North America or Europe.