Daan Koopman plays as much as possible in 2011!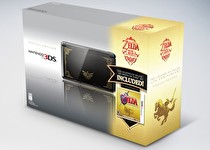 It is not weird to look at 2011 and suggest that the year wasn't what many people were rooting for. Now don't get me wrong, as an European and a full-blown import maniac of everything cool, I had still a very welcome year.
I started off the year proper with a huge release in the form of The Last Story. Where Xenoblade uses open world environments as its focus, is The Last Story streamlined in comparison. It focused more, just like the title implies, on its story and was very feature rich. It boosted even online, which continued to hook me for several months. I see this also as one my biggest achievements of the year, as it was the first JRPG I finished without the need of English voice acting or subtitles. Will I play it again when it releases in Europe next month? Of course, and I can't wait! The rest of January basically consisted of one more game, Ghost Trick: Phantom Detective. The highly loved and praised DS release was a hallmark of puzzle action and boosted an ecstatic I truly enjoyed. Oh, and I too want to adopt the friendly little dog Missile.
Around February and early March I didn't play many videogames, but ones I did play were mostly ones I was anticipating for a very long time. So got I finally my European hands on a copy of Kirby's Epic Yarn, which let's be frank took an insane amount of time to finally get released here. Next to that, BIT.TRIP FLUX on WiiWare took up most of my time plus later the Wii Virtual Console releases of Bomberman Hero and Final Fantasy III (also known as Final Fantasy VI). Yes, I played Pokemon Black/White, but due to severe lack of interest I had no intention turning back to it. This has nothing to do with the game's quality, but the change of its direction was turning off point for me personally.
Shortly after this, the Nintendo 3DS was released on western shores. Many people were complaining about the launch line-up, but I picked up a grand total of five games and played them all the way through for the most part. Those titles were: Super Street Fighter IV, Ghost Recon: Shadow Wars, Samurai Warriors Chronicles, Pilotwings Resort and Nintendogs + Cats. Beyond the launch, was April a very sad affair. Nothing on the release calendar truly interested me, but I had enough to play so I wasn't too bothered with it. The only other thing I picked up of note was the Pokémon Typing DS game from Japan, which was wacky but very intense in some places too. A big surprise, although the keyboard was a bit too small for my personal liking.
May became a little brighter with Mighty Milky Way from WayForward, Dead or Alive Dimensions, FAST: Racing League and the final Wii Virtual Console game I would ever play Chrono Trigger. With the Nintendo eShop making its late debut, Nintendo decided to all of the sudden drop the life support of the Virtual Console on Wii and its rotten corpse is still there as we speak. We have said many things about this issue, but I think we can agree that it's dead. Perhaps, maybe, hopefully there are some new games in the works for the service, but to be honest that is too late. They should have thought about this when the problems occurred, not when the steady release schedule is already burned to a crisp.
The summer came and once again I saw my interest in the release schedule declining. However this time around I did some more notable games like Minna no Rhythm Tengoku, Wii Play Motion, Resident Evil: The Mercenaries 3D and of course Xenoblade Chronicles. This is my game of the year and for good reason. The open nature of Xenoblade makes it such a breathing world in which I took the freedom to do every single sidequest and explored every single spot, yet I still think I missed out on things. The scope is unmatched on the platform, even outmatching Nintendo's own efforts of the last five years. I still don't get why Nintendo of America took so long to decide if they should bring this game to North America. All they had to do is play it and discover it for the gem Xenoblade truly is. Because knowing that the game is good is apparently not a good reason to support your most dedicated fans.
Directly after the summer, I got myself my Japanese Nintendo 3DS and mostly played Super Pokémon Rumble that month. Despite many people disliking it, I sunk loads of hours in that one and found it mostly entertaining. The real-time action gameplay was easy to pick and the level design in this version was so made that you could play it for a couple of minutes and put it down again. Isn't that what handheld gaming is about after all? Surely it isn't something that everyone will enjoy, but for people looking for a ''kicking back and relax'' type of experience you can get some enjoyment out of it. Furthermore I got myself the Wii collection of the BIT.TRIP games with which I have spent dozens upon dozens of hours, mostly on the new challenge content. I highly recommend that one for the people who haven't looked in the wonders of BIT.TRIP, although it will lessen the impact of the first game BEAT a little bit. For the rest I sunk my teeth into the two fantastic WiiWare titles MotoHeroz and escapeVektor Chapter 1 and the fun DSiWare title Go! Go! Kokopolo, which are still waiting for you to explore its content.
In October, the month in which I was born, I started to look more info family friendly games with which I could enjoy the upcoming holiday period with. My calls were heard and brought loads of quirky fun into the house with Go Vacation, Skylanders Spyro's Adventure, Tetris and Just Dance 3. Next to this, the fall saw a big growth of games on the Nintendo eShops worldwide, so my downloadable blood went more rapidly through my veins than ever before. It began with Okiraku (Family) games from Arc Rise Systems to the release of Hiku-Osu (Pushmo/Pullblox). From Japanese demos till the very end of December with the release of VVVVVV, it was a ride well worth taking and I hope the trend continues this year.
November was by far my busiest month with loads of games coming out I really wanted to play. It began with Super Mario 3D Land and continued with Shinobi, Cave Story 3D, Sonic Generations, Mario & Sonic, Rayman Origins plus a few others. You will see that I haven't listed Zelda: Skyward Sword here and that is really because I am not quite far into the game and still need to experience most of it. That seems like a thing I will continue this month, since I really want to dedicate time to it.
2011 ended for me with Mario Kart 7, Monster Hunter 3G and Tales of the Abyss, so the Wii was barely touched in the past month. Tales of the Abyss for the Nintendo 3DS is the remake of the highly acclaimed PlayStation 2 JRPG and it improves the original in every single way. So are all the technical hiccups completely gone and are the loading times improved to the point where they aren't an annoyance any longer. Americans will have to wait a bit longer for this, but believe when I say it will be worth every penny. It was one of my 3DS favorites in 2011. Finally to really close out the book, I got myself a North American Zelda 3DS before year's end. Truth be told, I am a big Zelda nut and couldn't resist the temptation. I haven't gotten many retail games for it though, so a few recommendations would be much appreciated.
2012 will be an interesting year. I am slowly becoming a big supporter of the Nintendo 3DS and I hope you will see that in the months to follow. The Wii however, is still on my mind and I will make sure I will play the remaining gems the system will provide. The transition to Wii U will be a hard one, since I got so attached to the white little console. This is why it makes me furious to see the support in such a big decline, but with Wii U and 3DS on Nintendo's mind mostly that isn't a surprise. There are so many unanswered questions on what this year will bring and that makes this year even more important than 2006 in some capacity. It will be the true test of a company we hold so dear and is doing everything in their power to please us. I just hope it's enough to change thinkers into believers.