Nathan and Neal celebrate Dragon Quest's 25th Anniversary by looking fondly at the series.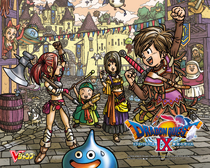 On May 27, 1986, Dragon Quest first debuted in Japan. Three years later, it debuted in North America under the name Dragon Warrior, thanks to a copyright issue. Since then, numerous titles have come out in the series, including nine mainline games.
Most recently, Dragon Quest VI: Realms of Reverie, a DS remake of the sixth game, came out in February. The last mainline entry was Dragon Quest IX, which came out in North America in July 2010. The next game in the series is slated to be Dragon Quest X, and it will be a Wii exclusive.
Nathan and Neal have teamed up to give you their own personal experiences with the Dragon Quest series, dating back to the very first games released here. We hope you enjoy this look back at the franchise, and feel free to add in your own "Dragon Quests" in the Talkback section.