No real Nintendo news on your various websites? Who cares! The Famicrew are always here to keep you entertained in another Live show!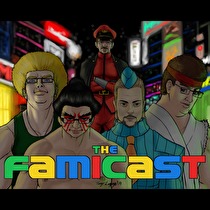 Subscribe via iTunes (Please rate and review, too!)
As usual we kick off with a look at our pretty eclectic lists recently played games. James puts more time into getting Another Metroid 2 Remake to run on his Mac than actually playing it, Danny explores the galaxy in No Man's Sky, Ty delves deep into his inner psychosis and Xbox library with Silent Hill 2 while Sairus tries out the Skullgirls Mobile beta.
Moving swiftly on we cover the scant news this week with some Dragon Quest NX "details" and the Prime Minister of Japan's wacky appearance at the Rio Olympics. That leads nicely into a later segment of Life in Japan and reader feedback as we answer mail about how Japan is gearing up for the Olympics in 2020.
In a special segment, James hosts the inaugural interactive Famicast quiz! Those that caught the show as it was recorded live were actually able to join the online quiz as it happened, but feel free to tally up the score on your own to play along while you listen! Let us know how you did in the comments!
This podcast was edited by Danny Bivens.
Music for this episode of The Famicast is used with permission from 8 Bit Weapon. You can purchase their music and shirts from their website 8bitweapon.com
Additional music for this episode of The Famicast is copyrighted to Nintendo, and is included under fair use protection.
The artwork for the show was designed by Tony Losoya, follow him on Twitter @Tony_Losoya