The Famicrew joins the Japanese public and gets nostalgic.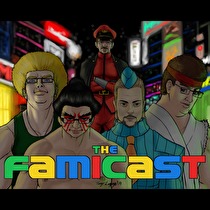 Subscribe via iTunes (Please rate and review, too!)
The Famicrew is back to full strength as James and Sairus return from places unknown just in time to save the Famicast from whatever Danny and Ty got up to in the last episode.
As usual we start the show with a look at what we've been playing recently, and this week it's been a spread of the classics ranging from Metroids to Zeldas to Starfoxes before diving into Ty's terrifying Xbox backlog. Danny also gives his impressions of the Dragon Quest Live Spectacle Tour, a stage event celebrating the 30th anniversary of Dragon Quest.
In current news there was a smorgasbord of Nintendo treats to choose from, starting with the recent and impending openings of Kirby Cafés across Japan, leading to Pokémon Sun and Moon trying to cash in on that Yo-kai Watch technology and also checking in with the fan made Another Metroid 2 Remake's launch alongside Metroid's 30th anniversary.
Before checking out some listener mail and feedback, James takes us down memory lane with a special feature quiz on what we all think are the most "natsukashi" or nostalgic games from Japanese history. Some of our ideas differ quite substantially on what the Japanese public at large thought, so play along at home and see if you fair better than us!
Another reminder, friends of the Famicast, the Nickscast, are going to be part of the upcoming event, The Race Against Time, a 24 hour charity streaming event raising money for Alzheimer's research. It starts on August 13 at 10 am (ET) so be there! For more info, be sure to check out their website here!
Also, be sure to stick around after the show for a special short life in Japan segment with Danny and Josh all about the concert scene here in Japan. Enjoy the episode!
This podcast was edited by Danny Bivens.
Music for this episode of The Famicast is used with permission from 8 Bit Weapon. You can purchase their music and shirts from their website 8bitweapon.com
Additional music for this episode of The Famicast is copyrighted to Nintendo, and is included under fair use protection.
The artwork for the show was designed by Tony Losoya, follow him on Twitter @Tony_Losoya