An all-star roundtable reconfirms the major Japanese hit.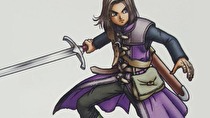 Yuji Horii has reconfirmed Dragon Quest XI will see an NX release, and probably very soon into the system's life.
In a roundtable interview with Masahiro Sakurai (Smash Bros) and Junichi Masuda (Pokémon) in the October issue of Japan's Nintendo Dream magazine (translation courtesy Gematsu), Horii states that the NX version is in development and will be different than the Nintendo 3DS and PlayStation 4 versions. Additionally, the plan is to release the games simultaneously in Japan so as to prevent story spoilers.
Dragon Quest XI was first announced last July for 3DS, PS4 and NX, along with a NX version of Dragon Quest X that was also reconfirmed recently. The NX is slated to release by the end of March 2017 according to Nintendo's financial statements, while Dragon Quest XI is intended to release in Japan within a year of Dragon Quest's 30th anniversary - setting it to release before May 27 of next year.