Touching to boost happiness in RPGs is officially confined to Pokémon.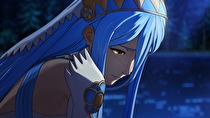 Following the announcement of the removal of a support scene in Fire Emblem Fates, another controversial aspect of the title will not be localized.
Nintendo representatives have confirmed to Kotaku that a "petting" minigame in the game's My Castle mode, which allowed for players to use the 3DS touch screen to enhance the relationship with party members, has been removed. The feature worked with any support relationship, including with blood or adopted relatives.
In a statement to Kotaku, Nintendo said "You might have heard somewhat misinterpreted or exaggerated information about the Japanese original game, but even in the Japanese original version, we have not included any features which are considered inappropriate in Japan."