Five guys, four Wii U games, three hours long, two time zones, one epic Famicast.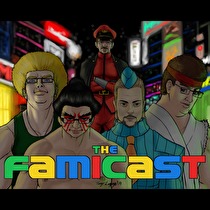 Subscribe via iTunes (Please rate and review, too!)
The longest Famicast ever? I thought we weren't going to do these long shows anymore!?Tokyo Game Show is kind of a special occasion though. Heck, it's why the Famicast started over a year and a half ago now!
We start off with a regular show with new business; as usual Minoru has a fascinating Japanese game that none of us have played or could ever hope to understand! Daan talks about yet another rhythm action game, Rhythm Hunter: HarmoKnight and Danny strikes another game off his backlog with Kirby's Epic Yarn. JC hasn't been playing anything "New" (geddit?), but he did prove his StreetPass superfan status by going on a mission to get a sacred puzzle panel for his collection.
After that, things get crazy with Life in Japan™. Learning how to play rock, paper, scissors could turn you into a crazed anime fighter and maybe win you the heart of a member of AKB48 (sigh).
Part 2 could have been a whole other separate episode - it's TGS a go-go baby!
Danny and JC tell their tales from the business days live from Famicast HQ. Then ex-PGC staffer Ty Shughart jumps in from the showfloor to give his take on the wild public days.
Finally we wrap things up with Daan, making sure we've given you all the details on the hottest games of the show; Layton 6, Ace Attorney, Layton Vs Ace Attorney (that's three separate games by the way), Tekken Tag 2, Tank Tank Tank, Romance of the Three Kingdoms, Orochi and much much more!
So fasten your seatbelts, put your seat into a comfortable position and let us take you on a journey to a place where Monster Hunter booths overshadow Call of Duty booths by a factor of a thousand!
PS: Stick around till the end for an important announcement on the future of the Famicast…