What's huge, crawls out of Tokyo Bay and crushes everything in its path? TGS!
It's Tokyo Game Show 2012! Even as a grizzled, experienced fake video game journalist, I still get tingles of excitement at the prospect of going to big video game events. Bright lights, loud sounds, awesome video games, and hot cosplay girls! I had fond memories of visiting TGS way back in 2006, which I lost getting blackout drunk the night after. I'm sure it was great, though.
Having a day job, I was unable to attend the media/industry days. I was still willing to go the public days and be stuffed into an airplane hangar with 100,000 other people to play a courtroom game in a language I barely understand, so I off I went.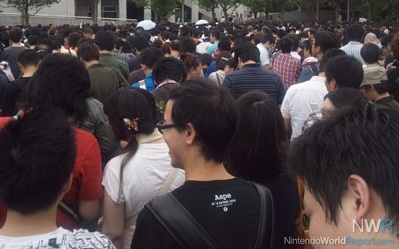 Waiting to enter the human traffic jam
Let me tell you about video game expos. For comparison's sake, at E3, wait time to play a game is around zero to five minutes. At TGS on a public day, waiting time for a game you might care about is about an hour. Maybe more. I often characterize a crowd of this density as a "madhouse" or maybe a "thunderdome." It's enough to drive even a native Tokyo resident mad.
I primarily wanted to see Ace Attorney 5. I saw a lot of it, as I was swept back in forth in the crowd at the worst bottleneck of the entire show. I think you needed to pre-order a reservation to get in line to get the wriststrap that would let you get in line to play the game. I didn't get to play it, but fortunately I did get to see the stage show with the director of the game, and the writer or producer or somebody. It's kind of fuzzy now, but they walked through quite a bit of gameplay. I got to see investigation mode in full 3D, an introduction to the new "heart scope" system, and a lot of delicious, fattening anime footage. The crowd was swooning over how "kawaii" the new sidekick girl Kokone is. She makes funny expressions, just like Maya! Take all my money!
Later, I met up with Danny, a NWR staffer who has not yet been made dead to the world by having to review Hamtaro games. We recorded a quick Famicast section, and I regaled him with old stories of NWR staff and associates that will never, ever be made public if they can help it.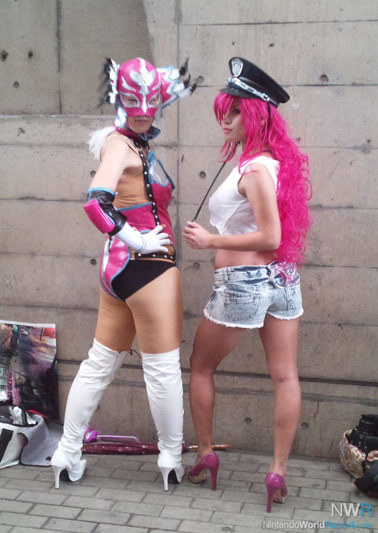 Here's what I really came for
Another personal highlight was visiting the MadCatz booth and meeting Mark Julio, the mastermind behind MadCatz's arcade sticks. I got stickers! I used the rest of my non-gaming time at the show to persue cosplay girls swag! And swag, I got. Press DVDs and stickers and junk left and right. I paid cash for all this other Guilty Gear and Phoenix Wright swag, and it was totally worth it. I'm not sharing.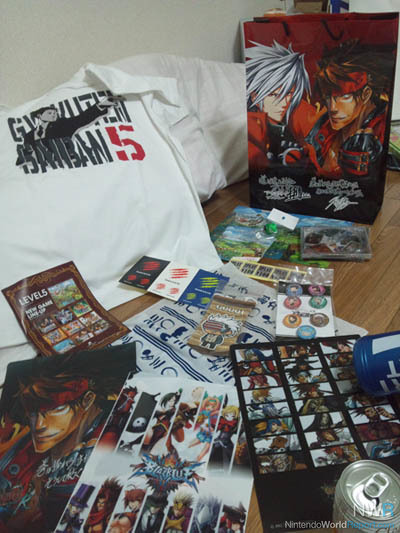 Hey guys, Guilty Fear is back! In POG form!
So, another year, another big videogame shindig. If you're ever in Tokyo when TGS rolls around, check it out. There are worse places to be trampled to death.