Hear about all the worthwhile games from the show - plus a special guest!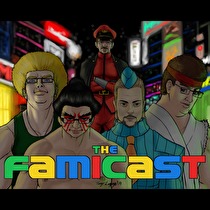 Subscribe via iTunes (Please rate and review, too!)
As you'd expect this episode is all about the Tokyo Games Show 2011, where James.C, Danny and the newest member of the team (revealed in this episode) were in full force covering all the major Nintendo platform games at the show. First, JC talks about the Square Enix games, Theatrhythm Final Fantasy and Kingdom Hearts 3D, then moves on to Cave Story and Rhythm Thief (which EBA fans will love) and a few more little games here and there. Danny gives the full story of what the show was like on the public days. Plus hear the full story of how he almost got to play Monster Hunter Tri G. Leading on from that, there's the inevitable chat about the Slide Pad attachment, which Danny got to use. This leads to discussion about how this could actually improve the gameplay experience for some upcoming 3DS games.
Next, the guys cover a little bit of news, mainly focusing on Monster Hunter coming to the 3DS and what that means for gamers (mainly in Japan) and the handheld as a whole.
Finally, this episode, the Famicast crew tackles listener mail and gets to read a shout out on the air. It could be from YOU! Also tune in to find out how to enter this months contest and what is up for grabs.
If you have any questions or comments for the Japan crew, stop by our forum thread or email us directly. We will try to answer all of your questions, with the best questions appearing on the show.
Famicast a go-go, baby!
This podcast was edited by Danny Bivens.
Music for this episode of The Famicast is used with permission from 8 Bit Weapon. You can purchase their music and shirts from their website 8bitweapon.com
Additional music for this episode of The Famicast is copyrighted to Nintendo, and is included under fair use protection.