"Where are we gonna go next Luigi?"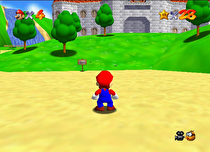 The evolution of 3D Mario has been something that has been on a trend towards achieving a representation of a 2D side-scroller in a 3D setting. This has culminated in the 3D Land/World series of games. But what about the style of 3D Mario that Nintendo had started way back in 1996 with Super Mario 64?
Looking back on Super Mario 64, its performance as a tight platformer is somewhat lacking. The game instead leans more on the side of creating large sandbox environments for players to explore and move around in. At the time this was a revelation for many, it offered a true 3D world with an almost limitless freedom of player expression. But, the game does suffer a little on the side of being a true precision platforming game.
After having played a fair amount of 3D World recently, I have come to the conclusion that I don't think I will need another Mario in this style, or at the very least, not for quite a number of years. I loved 3D Land and wanted more. I now have that with 3D World, although now I feel that this formula has reached its end point. Any more entries after this I think will begin to feel slightly stale, much like the New Super Mario Bros. series.
So, what's next then? If 3D world was a combination of 2D and 3D Mario games, favoring itself closer to the 2D games, what if EAD were to go the other way and add more elements from Mario 64 and Mario Sunshine?
A balance needs to be found, I don't think the slower paced exploration based Mario is what they should go back to fully. I like having very tight platforming challenges, which is what I loved about the fluddless levels in Sunshine.
What I propose would be to expand upon the castle idea from Mario 64 except making it far, far larger. Basically, a giant hub/overworld with its own platforming challenges and exploration. This 'hub' would be one giant world to explore, much like the style of the levels in Mario 64. This world would feature various exits to other levels that the player has to discover. The levels themselves would be more linear affairs, something akin to the Galaxy games in terms of structure, although there should be a few larger sandbox levels as well.
The point of this game would be to make a Mushroom Kingdom players can actually travel across, muck around in, and access levels seamlessly. It would be cool to have Mario drop down in the middle of a giant field with mountains to the left, a town in the distance to the right, etc. This overworld could be filled with so much stuff that it would feel like its own level, just on a massive scale. I would also say that basically any level would be open to be played right away too, as long as the player found the entrance, except for the final area.
Bringing back the Mario 64 style of an open sandbox should happen, I just don't think it should be at the expense of having a tight platforming experience. Creating a level/world out of the level select is a way of doing both at the same time without diminishing either.