Can we channel Nostradamus? No, probably not, but damn it, we can try!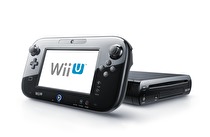 At some point over the next few weeks, Nintendo will drop a substantial amount of knowledge regarding the Wii U and its launch. It might come as early as next week, possibly during a Nintendo Direct, or it might come around Tokyo Game Show in September, which was around the time the Wii launch details were revealed back in 2006.
That means that doesn't give us much time to make some launch bets. Right after this gets posted, I'm going haul ass to the bookie and place these bets. They might look at me weird because I think most bookies don't deal with video games, but I digress. So, here's what I think might be the launch details for the Wii U.
Wii U Launch Date: November 18, 2012
Launch Price: $299.99, with no pack-in (but some sort of built-in software a la 3DS)
Launch Day Games:
Nintendo Land (Nintendo)
New Super Mario Bros. U (Nintendo)
Ninja Gaiden III: Razor's Edge (Nintendo)
Sing (Nintendo)
NBA 2K13 (2K Sports)
Call of Duty: Black Ops II (Activision)
Skylanders Giants (Activision)
Ben 10: Omniverse (D3 Publisher)
Rise of the Guardians: The Video Game (D3 Publisher)
FIFA 13 (EA)
Madden NFL 13 (EA)
Mass Effect 3 (EA)
Tank! Tank! Tank! (Namco Bandai)
Sonic and All-Stars Racing Transformed (Sega)
Darksiders II (THQ)
Assassin's Creed III (Ubisoft)
Just Dance 4 (Ubisoft)
Marvel Avengers: Battle for Earth (Ubisoft)
Rabbids Land (Ubisoft)
Sports Connection (Ubisoft)
ZombiU (Ubisoft)
Batman: Arkham City Armored Edition (Warner Bros.)
LEGO Lord of the Rings (Warner Bros.)
Scribblenauts Unlimited (Warner Bros.)
That's what I think will be there at launch. 24 games in total, and while there might not be a must-have sure-fire hit, that looks like a pretty fantastic launch line-up.
Now, there are some notable omissions. Nintendo-wise, I think Pikmin 3 will be out this year, just not on launch day. I think that Pikmin 3 will come out around the same time it did when the GameCube came out. To go ballsy and pick a specific day, I'll say December 2, exactly two weeks after the system's launch. Still in time for Christmas, but not right at launch.
I think of the other Nintendo projects, such as Project P-100 and LEGO City Undercover will come out in early 2013. Project P-100 just seems like it would fare better then, and LEGO City did not look ready for primetime at E3. I feel Wii Fit U, unless it's built-in with the system, will be a spring 2013 release. Though, it makes sense to me to include some basic Wii Fit U features with the system, with maybe some sort of Balance Board Bundle for people who don't already have the peripheral. Lastly, if Nintendo's smart, they'll make Game & Wario an eShop launch title.
As for third-party games, I believe Tekken Tag Tournament 2 will be a 2013 release. I think Rayman Legends will be a December release, possibly something like December 4.
As for eShop? While, I don't know. Trine 2 will be there at launch. Anything else? It depends on if Nintendo is going to trickle out releases like they do on 3DS. If so, I'd say one release every week or so until the end of the year with stuff like Runner 2 and Cloudberry Kingdom populating the environment.
Do you agree with my predictive list? Do you think Pikmin 3 will make launch? Do you think ZombiU will get pushed back? Let us know in the Talkback thread below.