3DS owners can get their hands on five discounted games.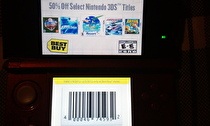 Best Buy has discounted five 3DS games by 50% via Nintendo Zone, as confirmed by Nintendo of America on Twitter.
Titles with reduced pricing include Steel Diver, Pilotwings Resort, Madden NFL Football, Asphalt 3D, and Rayman 3D. When customers bring in their 3DS and the Nintendo Zone app is loaded, a bar code appears on the lower screen to be scanned at purchase.
The coupon is valid until February 5 at participating locations.
Image from Cheap Ass Gamer user Nogib