We're giving away an amiibo every week of summer! Welcome to Week 1: Pink Yarn Yoshi!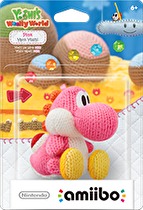 Nintendo keeps releasing amiibo, but you don't have to break open your wallet to get your hands on them. Why not win a free amiibo figure from Nintendo World Report? We'll be giving them away all summer long!
Every week we'll run a different contest for a different Amiibo prize. It might be a caption contest. You might need to answer trivia. Or you might need to tune into a podcast for the secret keyword for that week's random drawing! Make sure you check back each week to enter into that week's particular contest, and to get a sneak preview at the Amiibo prizes to come! (Winners of previous weeks of the NWR's Summer of Amiibo event are not eligible for subsequent prizes.)
---
This week's prize: Pink Yarn Yoshi! This week's contest: an E3 QUIZ!
Send an e-mail with your answers to the following five questions to contest@nintendoworldreport.com with the subject line "Summer of Amiibo Week 1". A winner will be selected at random from the correct entries!
Hint: we really want you to win an amiibo, so all the answers to all the questions can be found in the related news stories linked to this article!
Question 1: MyNintendo members could earn free Platinum Points for finding secrets on Nintendo's E3 site. What TWO Sheikah items could be found on the site as part of the promotion?
Question 2: The Sunday before E3, Developer Syrenne Mcnulty announced live on an NWR livestream that the indie game Monochrono would release in 2017 on Wii U eShop and other platforms. What is the name of the development studio creating the game?
Question 3: Nintendo talked about their upcoming mobile game Pokémon Go on the Wednesday of E3. When did they say they hoped to launch the game's physical accessory, the Pokémon Go Plus?
Question 4: Nintendo announced new amiibo in the Super Mario lineup. Aside from Daisy and Waluigi, what other game character is getting an amiibo figure for the first time?
Question 5: Name ALL FOUR of the indie games that were presented Monday afternoon by Nintendo's Damon Baker on a segment of Geoff Keighley's Youtube Live @ E3 stream.
Don't forget to send the e-mail with your answers to contest@nintendoworldreport.com with the subject line "Summer of Amiibo Week 1"!
---
Full List of Prizes:
June 23: Pink Yarn Yoshi amiibo
June 30: Villager amiibo
July 7: Chibi Robo amiibo
July 14: Greninja amiibo
July 21: Kicks amiibo
July 28: Ryu amiibo
August 4: Inkling Boy (EU) amiibo
August 11: Inkling Girl (EU) amiibo
August 18: Mii Gunner (JPN) amiibo
August 25: STAY TUNED!!!

Send in your entries for this week's contest, and make sure to keep an eye out for next week's giveaway!
Congratulations to the winner! (You have been contacted via e-mail!)