Neal details why he still loves Kirby's Epic Yarn to this day.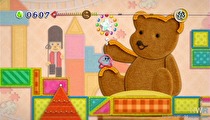 In October 2010, I did something that some staffers have given me a considerable amount of crap about. I reviewed Kirby's Epic Yarn and gave it a 10/10, one of three 10s I have given out across the damn near 200 reviews I've penned at Nintendo World Report (the other two were Punch-Out!! and Skyward Sword, in case you were wondering). Why did I do that? Well, I explain it in the review, but the easy answer is this: the game made me completely happy for close to 10 hours. I can't think of many other games that did that (except Punch-Out!! on Wii, which well, I also gave a 10/10).
Kirby's Epic Yarn, to me, was extremely inventive and rewarding. The reward was different than most games, though, as it was based around seeing the game world unravel, sometimes literally, as opposed to getting some achievement unlock or new power-up. I was driven to get gold medals in this game because I wanted to see everything the game offered. I explored the nooks and crannies because I want to know what each adorable treasure chest held. I sincerely love everything about Kirby's Epic Yarn, from the music all the way to the way Kirby turns into a car when he runs.
I understand people don't find it as special and exemplary as I do. I get why it's not people's favorite game on Wii, and missed out on our Top 10 list. But for me, it was a magical, delightful experience that lived up to every high expectation I had. I even replayed parts of it over the past two years and I still adore it. It's the kind of game I can break out when I'm sad and it will instantly make me happy. When it was used on Radio Trivia a while back, I just beamed throughout the entire segment. Not too many games have that power, and that's why I love Kirby's Epic Yarn.
Even if you think I'm crazy for having such an affinity for a game with no death mechanic, do you have any games that fit this super-happy bill? Do you enjoy games that give you that elated feeling?