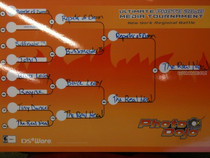 After a 20-minute tournament that was preceded by an hour of DSi camera-fueled setup and lunch, I came out on top of the New York City region. Under the lame pseudonym "The Real Neal," I managed to defeat representatives from GayGamer.net, Maxim, and The New York Post. My fireball, which was a picture of NWR contributor and photographer Lauren Lewandoski, blazed a trail through my foes and to the championship.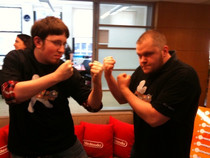 David Edison of GayGamer.net and me right before our first round bout
Next week, I will be flying across the country to Redmond to compete in the finals against the San Francisco and Los Angeles winners for a chance to take on the mighty Bill Trinen for the title of the Ultimate Photo Dojo Champion.
Stay tuned to Nintendo World Report as I detail my exploits, train for the tournament, and explore the undiscovered (for me) state of Washington and Nintendo's fabled headquarters. Hopefully it'll be as fun as the last time we were there!