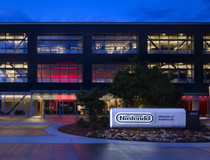 First off, there is the beautiful and colorful entrance hall, which features Wii and DS lounge areas, as well as an elevated cube that lingers at the top of the room and has been dubbed "Bowser's Castle." I'm not sure if any man truly knows what lies inside the cube.
There is also the quadrant system, which divides the majority of the building into four segments: Mario (Red), Wario (Blue), Donkey Kong (Yellow), and Yoshi (Green). Each segment features themed conference rooms with names such as Hooktail the Koopa, Rambi, Funky Kong, Ground Pound, and Smash Bros. Supposedly each room fits each quadrant, but Samus is a conference room in the Yoshi quadrant, which doesn't make much sense.
The fourth floor eschews the quadrant system and instead focuses on another one of Nintendo's long-running franchises, the Legend of Zelda. There are four large conference rooms there named Link, Zelda, Master Sword, and Ganon. In addition, there is a small zen garden in the middle of the floor, and a lovely rooftop deck on both the east and west side that has views of the forests and mountains around Redmond. The entire roof is green, meaning that there is literally grass on the top of the roof. In general, the entire fourth floor is very fitting for being named after the Zelda series.
The walls in most of the building feature a unique design, one that is inspired by the NES controller. There are raised areas that resemble the contours of the controller. Like most of the building, it is aesthetically pleasing.
Down on the first floor is Café Mario, the fully stocked employee cafeteria. It has indoor seating and an outdoor area with an amphitheatre and multiple fountains. The entire campus has Wi-Fi as well, and the company encourages working outside if at all possible. Around this area are walking trails, and next to it is the four-story 900-car garage, which makes parking issues a thing of the past. When the old building that the new one is replacing gets torn down, there are plans to add a soccer field and more, giving the three-building campus a playful area in the middle of it.
There is also the employee store on the first floor as well, which features much of what you'd find in the Nintendo World Store in New York City and then some. I bought this totally awesome Chain Chomp soccer ball there.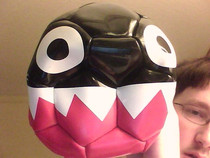 Finally, there is a section of Café Mario that has a stage and is geared for hosting company events or events like the Photo Dojo Media Tournament, which I participated in and won, but more on that later.